Whether you're a long-term investor or simply looking for a fast stock trade, your No. 1 job is to find "extremes" in the market.
For example... an extraordinary way to build wealth over the long term is to buy great businesses at great prices. Let's say you could buy a company like Coca-Cola or Microsoft for less than eight times earnings. That's an extremely cheap price to pay for the world's best businesses... and this kind of opportunity rarely appears in the stock market.
For speculators, the ideal time to short a stock is when it's at an extreme level of overvaluation... like 60 times earnings. This sort of overvaluation usually comes along with extreme levels of investor optimism.
I'm bringing up the "extreme" point today because – for both investors and speculators – we are seeing an extreme level of buying interest from the market's most knowledgeable buyers... corporate insiders. It's an extreme level that almost always marks a big rally in the stock market.
The chart below gives us the "big picture" overview based on the insider buy ratio (IBR). In other words, it measures how bullish or bearish insiders are on the overall market. The IBR shows companies with more insiders buying than selling, versus companies with more insiders selling than buying.
Let's say we have 100 net buying companies and 200 net selling companies (there are almost always more companies selling). The ratio in the example would be 33%... The formula is a little more complicated than just that. But you don't have to worry about it. All you have to do is look at this chart: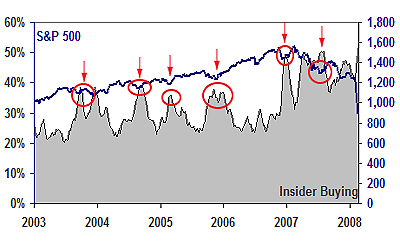 Look at how extremes in the IBR match up with extremes in the S&P 500. Whenever the IBR reaches extreme highs, the market responds with extreme lows. Insiders know how to call the bottom. And as insiders cut back their buying and increase selling, the market tends to put in a top.
Whenever the IBR is above 35%, insiders are bullish. When it's below 35%, insiders are bearish. Right now, the IBR is holding above 55%. The market's smartest players are buying more than they're selling... Insiders are more bullish today than they've been in five years.
Here's what you should do: Revisit stocks you've wanted owned for years but never bought because they were too expensive. The world's best companies are on sale. And insiders are calling a bottom. This extreme won't last long.
Good investing,
Brian Heyliger