The fat lady still isn't singing.
Yes, all the major averages are down sharply from their highs of last October, and much of the damage occurred in just the past three weeks. But you can't give up on the bull yet – at least not until the end of the month.
Take a look at the following monthly chart of the S&P 500 plotted against its 20-month exponential moving average...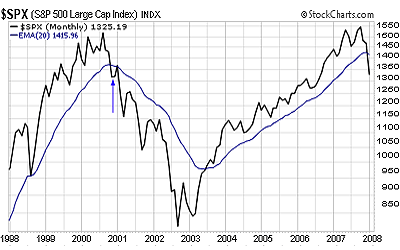 You've seen this chart before. I use it to define bull and bear markets, and it's simple to read. If the S&P 500 is trading above the 20-month EMA, then we're in a bull market. If the index trades below the line, however, then the bear is in charge.
According to this chart, we're in bear market.
But... not so fast. The market is never so easy to read. Keep in mind that this is a monthly chart. So all that matters is how the S&P closes at the end of the month. Right now, the chart reads bearish. But if the S&P can somehow miraculously rally and close above 1,416 by the end of January, it will erase the breach of the line and the bull would regain control.
It would be just like the stock market to throw us that sort of curve ball.
Understand, I really don't think we're going to salvage a bull market here. But it's too easy to call this a bear – and too many people are doing just that. So it's time for a strong, counter-trend rally to muddy the waters a bit. The action we've seen over the past two days may just be the start of that.
Take another look at the previous chart and notice the action back in August 2000, when we entered the last bear market. You can see the breach of the line and the snapback rally that pushed the S&P back up to test the breakdown level.
This is important because even if the market doesn't rally quite that high right now, it will rally at some point. And it's normal for prices to come back and test breakdown levels. So we're quite likely to see the S&P 500 come back over 1,400 at some point.
I'm betting it happens sooner rather than later.
Pay close attention to the talking heads over at CNBC when it does happen. If they shrug off the recent carnage as merely a correction, and eagerly declare the return of the bull market, then get out your songbook and sing-a-long with the fat lady.
The curtain will come down on the bull.
Best regards and good trading,
Jeff Clark