You have to go back 17 years to find an investing public more pessimistic than it is today...
Right now, 75% of individual investors believe the stock market will be lower in six months. Sentiment hasn't been this low since October 1990 – the end of the last bear market in real estate. This was also a notably tough time for the stock market, which was down 11.5% on the year.
This may sound like bad news for people heavily invested in stocks, but it could be a great short-term buying opportunity. Following the pessimism in October 1990, the market rallied 4.4% over the next month, and 9.5% over the next two months.
You see, extreme pessimism often precedes short-term rallies in the stock market. However, buying simply because individuals are pessimistic often gets you into a trade too early. The best strategy is to wait until individuals are extremely pessimistic... but becoming less so.
The chart below compares the S&P 500 index to the sentiment survey released by the American Association of Individual Investors (AAII). In the survey, the AAII asks its members, "Where do you think the market will be in six months?"
They are given three choices to answer the question: bullish, bearish, and neutral. The AAII "Percent Bull Ratio" is the number of investors who are bullish compared to the total number of investors who weren't neutral – i.e. bullish/(bullish+bearish).
Individual Investors – A Good Contrarian Signal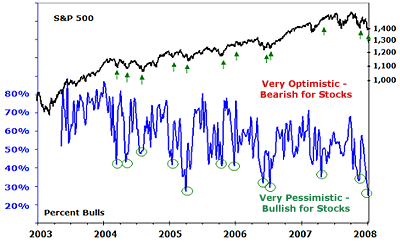 As you can see, over the last four years, pessimism extremes have often corresponded with good buying opportunities.
Let's look at the numbers... The table below singles out 11 instances of extreme pessimism and compares the S&P 500's performance four weeks after those occurrences to its average four-week performance from 2004 to today.
S&P 500 Return

After Pessimism
Extreme

All Periods

Average 4-week return

2.0%

1.2%

Number of occurrences

11

52

Winning percentage

90.9%

69.2%
"Winning percentage" refers to the percentage of time the stock market rose over the four-week period. So, 69% of the time, the market closed higher than it did four weeks earlier.
But the market closed higher 90.9% of time four weeks after instances of extreme pessimism.
Granted, you can't use the past as a guide to blindly make trading decisions. But the conclusion is what any good contrarian would expect: Investors are extremely pessimistic right now... which means a rally is on the way.
Good investing,
Ian Davis