This year started off with a bang.
But precious metals, not stocks, were on a tear.
In the first two weeks of 2008, gold shot up 9%. Silver was up an incredible 11% over the same time period. That's the actual metals themselves, not mining companies...
Gold stocks have been moving just as quickly. The two gold giants, Barrick Gold (ABX) and Newmont Mining (NEM), are up 11% and 8%, respectively, since the beginning of 2008. Combined, the two companies have added $6 billion to their market caps.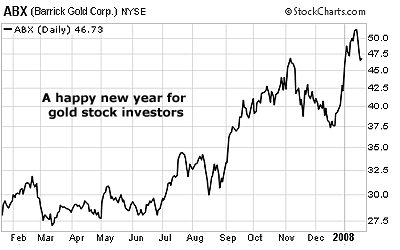 This streak can't continue nonstop – gold has pulled back a bit already from its big gains. But it remains one of the few asset classes that's still a great value in dollar terms. Consider the following: In 1980, the S&P 500 was around 130. Today, it's 1,300. In 1980, a new home cost around $76,000. Today, the median home price is $210,000.
And thanks to inflation, dollars are worth a lot less than they were 27 years ago.
Gold is another story. In 1980, it cost $850 per ounce. Today, it's at $890. When you account for inflation, gold is actually cheaper than it was 27 years ago.
In fact, gold should be trading above $2,000 per ounce. Judging from the first two weeks of 2008, it looks as though investors are aiming to get it there before the decade is out.
As my colleague Steve Sjuggerud pointed out in his recent
DailyWealth
column, there's been a lot of hype recently concerning gold. But I'd argue most people haven't bought in yet: Currently, only 10% of the worldwide demand for gold is for investment purposes. Despite its run of the last five years, few people take gold seriously as an investment.
All of this will change in the coming years. Two weeks ago, the Shanghai stock exchange debuted trading for gold futures. The pool of potential investors for gold is growing dramatically. And if global demand for gold as an investment rises even a couple of percentage points, the demand on a per-ounce scale will be immense.
If you don't already own gold, now is still a fine time to buy – as long as you're willing to hold for the long term. If you're uncomfortable buying physical gold, you could buy streetTRACKS Gold (GLD), which tracks the price of gold.
Good investing,
Graham