Well, here we go again...
Yesterday's market action was poor. The S&P 500 dropped below the 1,465 support level. That negates the recent bullish series of higher lows and increases the odds of dropping down to test the November lows at about 1,405.
But first... we bounce.
And bounce we did. The S&P 500 clawed its way back to 1,497 just in time for Christmas. But those gains disappeared as fast as Aunt Edith's holiday sugar cookies, and the S&P did indeed test the November lows yesterday.
Now, we find ourselves in a situation similar to December 18. The chart of the S&P 500 has violated an important technical support level, and that argues for lower stock prices in the days ahead.
But first... we bounce.
Here's the S&P 500 plotted against its 20-day exponential moving average...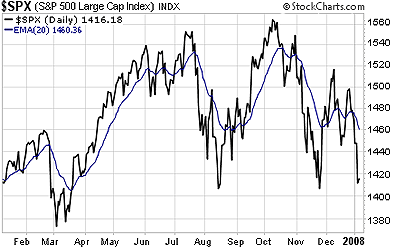 Remember, the 20-day EMA acts like a magnet for the S&P 500 in the short term. The index rarely strays more than 30 points above or below the 20-day EMA before reversing and coming back to test the line.
As of yesterday, the S&P 500 was more than 40 points below the line. So we're due for another bounce. And I'm guessing it will look a lot like the bounce we saw just before Christmas.
The S&P should rally back up to, and maybe slightly over, the 1,460 level. But, once again, it will be only a bounce. The markets sustained a lot of technical damage last week, and it looks like they have a little more work to do on the downside. The next obvious support zone is 1,375... That's where the index bottomed last March, and it's also the intraday low from the August decline.
Right now, aggressive traders can try to scalp a few points by playing the upside. But don't be shy about taking profits. We have a little lower to go.
Best regards and good trading,
Jeff Clark