The price of a ton of steel climbed from $299 on March 18 to $454 on April 18.
That's a gain of 51% in just the last month.
Overseas, steel is even more expensive. European steel is now selling at $1,000 a ton or more.
This giant gain reminds me of uranium prices back in July... At the time, the price of uranium was up tenfold since December 2003 – a compound annual gain of more than 92% per year.
It was clearly a speculative bubble, but no one knew where it would end. As it turns out, July was the end of the uranium bubble. Since then, uranium prices have been cut in half, falling from $138 to $69 per pound. Take a look at the crash:
Uranium Before and After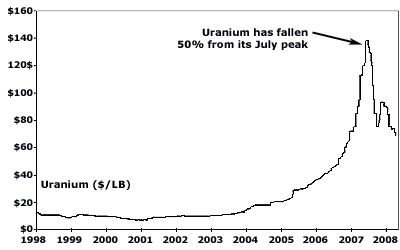 Now... let's look at a chart of steel prices. As you can see, prices exploded in the last few months and have gone "parabolic."
The Price of Steel Goes Parabolic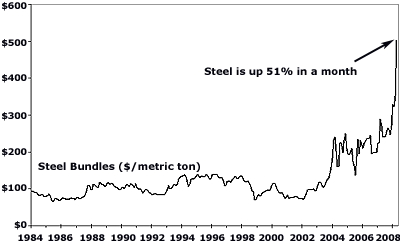 As you can see, steel looks eerily similar to uranium in July. However, steel isn't yet as overbought as uranium was back then...
Between January 2002 and July 2007, uranium rose by an astounding 1,352%. Steel, on the other hand is, "only" up 590% since 2002.
So, do you buy steel now in the hopes of a double (if it follows in uranium's footsteps) or do you take heed of uranium's eventual crash and wait on the sidelines?
I'm not brave enough to buy steel right now. I believe the trend has developed from steady, linear growth... to unsustainable, exponential growth. However, if you do want to trade the momentum, a good way to do so may be through U.S. steelmakers.
Charles Bradford (an analyst at Soleil Securities in New York) told Bloomberg, "In the past, portfolio managers would sell steel stocks at the first sign of recession [but] this time a weak dollar is making foreign steel costlier. Domestic producers are getting a bigger piece of the pie."
Steelmakers Nucor (NUE) and Steel Dynamics (STLD) are among the U.S. companies reaping the rewards of both rising steel prices and a weak dollar. Nucor has tripled in the last three years. Steel Dynamics has quadrupled over the same time. Both companies are expected to post record profits in 2008 despite weak automobile and washing-machine sales (major drivers of U.S. steel prices). These two should continue to perform well if steel keeps rising.
However, I think a better trade is to wait until steel begins to fall and short these companies. Things might look rosy now, but let's not forget... steel is a cyclical commodity business. It's prone to big booms and busts.
If the
extremely oversold
dollar should correct versus European currencies, or if steel demand proves to be weaker than expected, these companies are in for a world of hurt. I'll keep you updated...
Good investing,
Ian Davis