Last week, the market erased six years of gains...
The S&P fell to its 2002 lows. Investors who held the S&P for six years are sitting on a loss.
The good news is, with stocks dropping so much, dividend yields are more attractive than ever before. In fact, the S&P 500 currently yields 3.2%, just about the highest it's been since 1991. Ten-year Treasuries are only paying 3%. For the first time since 1958, stocks are yielding more than government bonds.
But some investors are being lured into a trap by one of the market's highest-yielding sectors.
Take a look at this chart: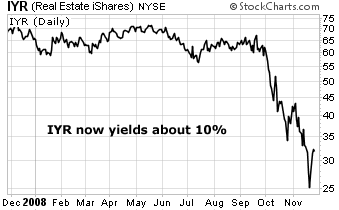 That's the iShares U.S. Real Estate Fund (IYR). Since September, it has lost 50% of its value. The fall has pushed IYR's yield to about 10%.
IYR holds the biggest names in warehouses, retail space, office space, and even residential property. As REITs, these companies receive tax incentives for passing profits on to investors. And for years, REIT investors enjoyed the above-average yields they pay.
But don't let the REIT sector's huge yields today fool you...
In late September, I told my readers to avoid real estate. In fact, I suggested Inside Strategist subscribers short the largest retail mall operator in the U.S. – General Growth Properties (GGP). At the time, GGP was yielding more than 13%. But things weren't looking good...
GGP shares trade at $15. If GGP has to sell more [stock], shareholders will face massive dilution or, another likely alternative, bankruptcy. That's probably why there hasn't been this much insider selling in General Growth in more than 10 years.
As the stock fell, management was "jumping ship," selling over $150 million in stock. General Growth insiders couldn't have sent a more obvious message.
General Growth has yet to admit defeat and file bankruptcy. But shares are trading for $1.30. That's pushed the trailing dividend over 200%. A number that high suggests the inevitable is around the corner.
Today the REIT sector is yielding more than just about any other sector in the market. But it's a trap.
REIT insiders can't sell their shares fast enough. In the last three months, insiders at shopping-center operator Macerich, which now yields 27%, have sold $47 million. At mini-mall owner Developer's Diversified, managers have dropped $30 million of stock. Developer's 12-month trailing yield is 76%.
Those are just a sampling of what I've seen. The selling is sector-wide. And it's accelerating as many of these REITs fall to new 52-week lows. The biggest red flag insiders can send an investor is massive selling as a stock crashes.This is exactly what we're seeing here.
General Growth will be one of the first to bury itself, but it won't be the last.
Good investing,
Brian Heyliger