"I'll get that, Dad," my 8-year-old son, Grant, said to me as he reached for the check after lunch at our favorite Mexican restaurant.
I thought he was joking, so I went along with it for a while – fully expecting him to eventually ask me for my credit card. Instead, Grant reached into his pocket and pulled out a roll of $20 bills.
It's not every day you see an 8-year-old tossing down twenties like a Vegas dealer flips cards. Grant sensed my bewilderment and volunteered, "Grandma took me to the recycling center yesterday."
All those plastic garbage bags filled with empty aluminum cans, which have been taking up space in the garage over the past several months, turned into a $200 windfall for my second grader – and a free lunch for me.
I had no idea aluminum prices were going up. In fact, the last time I looked at a chart of aluminum was last summer – and prices were crashing. In the past month, however, the price of aluminum has spiked 20%. Take a look...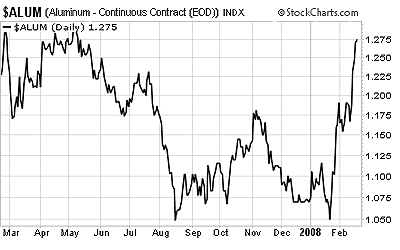 If the recent meteoric price rise is enough to stuff my son's pants pockets, can you imagine what it's doing for aluminum producing companies?
Many aluminum company stocks bottomed back in October 2006 and have been in a race higher ever since... That is, until this past summer, when metal prices fell off a cliff and the stocks found the lows of the year.
But even with the metal's recent rally, aluminum company stocks haven't done much. Oh sure, they're up a bit over the past few weeks. But while the metal itself is rapidly approaching the highs of last year, most aluminum company stocks are well below their highs.
And that's where we have our opportunity. If the price of aluminum continues to rally, then the stocks should play catch-up. Stocks like Alcoa (AA), Aluminum Corp of China (ACH), Superior Essex (SPSX), and Tredegar Corp (TG) will all do well.
On the other hand, if the price of aluminum doesn't hold up and the investments falter, you can drown your sorrows with a six-pack of your favorite beer.
Just remember to recycle the empties.
Best regards and good trading,
Jeff Clark