The U.S. dollar is a ghost of its former self.
In just seven years, the greenback has fallen by an average of 37.2% against its major trading partners. The dollar you took abroad in February 2002 is now worth only 63 cents.
In fact, looking back over the last 35 years, the U.S. dollar has never commanded less value overseas than it does right now.
Take a look at the following chart of the trade-weighted U.S. dollar... which is a weighted average of exchange rates between the U.S. dollar and the currencies of America's major trading partners.
The Great Dollar Crash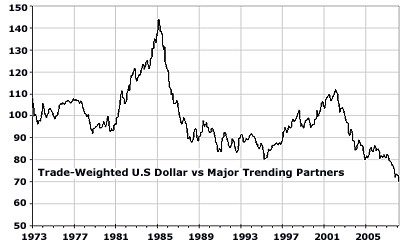 Looking at the chart, it's obvious the U.S. dollar moves in large, mega trends... and the most important thing for investors to do is to get on the correct side of the trade and stay there.
So what's the correct side right now? I'm sure you've heard all of the bearish arguments... current accounts deficit, the weakness in the financial markets, and rising inflation.
The bulls, on the other hand, say financial conditions are improving, equity and real estate valuations are cheap, and there will likely be a reduction in overseas spending once things in Iraq settle down.
However, my experience (and statistical back testing) has shown me that these factors aren't particularly useful for forecasting the direction of the dollar.
Instead, investors have to look at whether the dollar is cheap and where it is trending. Currencies frequently get expensive and cheap against each other. Below is a chart of the purchasing power parity (ppp) between the United States and Europe (the major constituent of the trade-weighted dollar index) along with the actual exchange rate.
Purchasing power parity is a hypothetical exchange rate between two countries, based on the theory that – in an open and efficient market – the value of identical items should be the same in every country.
The blue line on the following chart is what the exchange rate would be if goods were equally expensive in both countries. The dotted lines above and below indicate when the currencies get "out of whack."
The U.S. Dollar is Cheap Versus the Euro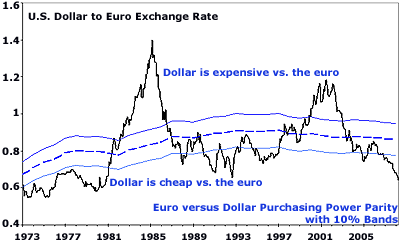 As you can see, the dollar is extremely cheap relative to the euro right now. In fact, the dollar would have to rally by about 34% before goods achieved parity.
So... what's the trade to make here? The dollar is obviously cheap relative to the euro. But the trend is still clearly down... and it's suicide to fight the trend.
I recommend simply keeping this potential long-dollar trade on your watch list. If the trend starts to go the other way, it has plenty of room to run.
Good investing,
Ian Davis