The Japanese have gone on a shopping spree.
In the last six months, two of Japan's biggest drugmakers in have scooped up two midsized U.S. biotech firms at nothing short of whopping valuations. This international binge bodes well for us biotech investors...
Last week, the biggest Japanese pharmaceutical company – Takeda Pharmaceuticals – shook the biotech world, paying close to $9 billion to acquire Millennium Pharmaceuticals. The multibillion-dollar price tag represented a 53% premium to Millennium's previous closing price. Even more startling, Takeda's outlay translates to 15 times Millennium's projected sales this year. (Most good midsized biotech companies sell for seven to nine times sales.)
The Takeda-Millennium deal comes on the heels of another Japanese biotech buyout at the end of last year. Japan's fourth-largest drug company – Eisai – picked up U.S.-based MGI Pharma for 10 times sales. Apparently, MGI had multiple suitors. It's safe to assume that Eisai was willing to cough up enough cash to win out.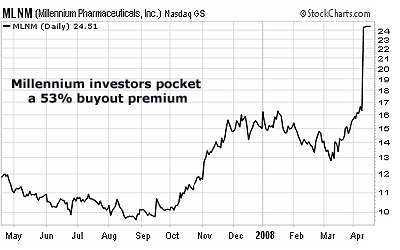 Both the Millennium and MGI Pharma buyouts highlight the point my colleague Rob Fannon and I have been making repeatedly: Biotech investors are right where they want to be because large drug companies are desperate to acquire biotech assets.
These companies face no other choice with expiring patents, empty pipelines, and tons of cash. The massive premiums on these two Japanese deals prove that certain companies are willing to pay any price to get their hands on biotech drugs.
Heck, there's even consolidation within the biopharma space. New Jersey-based Celgene, a leading cancer biotech company, acquired fellow biotech Pharmion last November for $3 billion, a 46% premium.
So what does it mean for investors? The pool of midsized to large biotech companies with real revenues is rapidly shrinking. With so many mid-cap biotech companies being bought out, even the
Wall Street Journal
speculates
this particular biotech segment may be a lucrative oasis during volatile times.
Here's how you can get in ahead of the windfall: Search for biotechs with existing or near-term product revenue, a rich pipeline, and an experienced management team. I prefer companies with revenue of at least $200 million or companies with potential blockbusters (sales of $1 billion or more) in Phase III testing. The pipeline should hold at least two drugs in early stage clinical trials. Lastly, management should have experience developing and selling drugs, with emphasis on their track record in dealings with the FDA.
Right now, many biotech companies with market caps between $1 billion and $5 billion fit the description. Start your search there.
Good investing,
George Huang