Today we'll find out if diets really work.
Well, maybe not the diets themselves... but we'll certainly know if the marketing works. You see, NutriSystem (NTRI) announces earnings after the close today. And if you've watched television for more than 20 minutes over the past six months, then you've seen the company's advertisements.
NutriSystem has flooded the airwaves with endorsements from formerly heavyset women who are now fit and trim. To sell its diet programs to men, the company uses Dan Marino, Don Shula, and a host of professional athletes. And last December, NTRI went after the over-60 crowd with a diet program designed for older folks and pitched by Tony Orlando.
It's an enormously expensive campaign, and we'll find out today how it's going. Judging from the following chart, Wall Street is skeptical...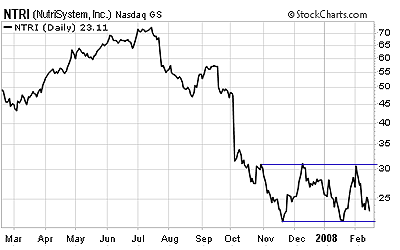 The stock experienced its own version of a crash diet last October when NTRI pre-announced poor earnings results and a dramatically reduced customer growth rate. The cost of attracting new customers also rose quite remarkably.
So investors dumped the stock faster than a bulimic dumps a four-course dinner. Since then, NTRI has bounced around between 21 on the downside and 31 on the upside. As you can see from the chart, the stock is approaching the bottom of that range.
Is it a buying opportunity? My best guess is... maybe. At just over $23 per share, NTRI trades around seven times earnings and has about 15% of its market capitalization in cash on its balance sheet. Investor pessimism toward the stock is also quite high, and that makes it attractive from a contrarian point of view.
But there are plenty of things to be concerned about as well. For example, the diet industry is fiercely competitive. Weight Watchers (WTW) and Jenny Craig (a private company) have piled a bunch of money into their own marketing campaigns. Weight Watchers impressed the Street last Thursday with its earnings report. The question is whether or not WTW's success came from stealing business from NutriSystem, or if it simply kept its share of an ever-increasing diet pie.
We'll know the answer later today. Either way, the options market is pricing in a huge move. The NTRI March 30 call options – which give traders the right to buy the stock at $30 per share – cost $1.20. Buyers of these options are banking on the stock popping above $31.20 – a gain of about $8, or almost 35%.
The put premiums are equally as fat. For example, the NTRI March 20 puts – which give traders the right to sell the stock at $20 – are priced at $1.80. So, put buyers are hoping for a decline below $18.20 per share in order to profit on the trade.
It's tough to make money trading options when you have to pay those kinds of premiums. Sophisticated traders can attempt a spread or some other option combination. But most folks ought to steer clear of these options until the earnings announcement is out of the way.
That's when the prices will shrink faster than Tony Orlando's waistline.
Best regards and good trading,
Jeff Clark