Today's stock market is not for the faint of heart...
Two weeks ago, the average daily move of the S&P 500 was 3.9%. That is six times its normal volatility. (Over the last 30 years, the S&P only moved an average 0.64% a day in either direction.)
In fact, the volatility we recently saw in the S&P was the second highest in history, second only to "Black Monday." And let's face it: Black Monday, the day the S&P fell 20%, is going to hold the crown for some time.
So it's no Black Monday, but today's market provides plenty of cold sweats and sleepless nights for most investors. And today I'm going to suggest a sleep aid...
I'm talking about a sector that climbs and falls with less volatility than the S&P. This sector will let you skip the stomach-lurching turns of the overall market.
The sector is nondurable household goods. (It includes companies that produce cleaning supplies, toilet paper, batteries, etc.)
While the S&P 500 was bouncing around like a third-grader at a candy shop, nondurable household goods adopted a very adult pace. The sector moved by an average 1% per day, roughly a quarter the volatility of the rest of the market.
And although the sector is currently off its all-time high, it is holding up well during this intense bear market...
The Take-A-Nap Index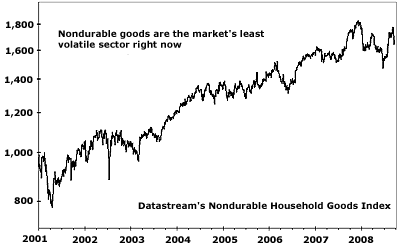 Since 2001, the sector has grown 6.4% per year (8.5% if you add in dividends). In fact, the sector has always plodded along at this healthy pace. Barring a sharp selloff in March 2000 (when everything was overvalued) and a sharp selloff on "Black Monday," when no one escaped the panic, this sector has remained surprisingly un-volatile.
Right now, the sector is selling for about 18.8 times earnings, about 6.5% below its long-term median P/E. And at 3.2 times book value, it's trading at a 5.9% discount to its historic levels.
Unfortunately, no ETF tracks the nondurable household goods sector. However, we do have some quality individual companies to choose from... Procter & Gamble (PG) is the largest. Then Clorox (CLX), Energizer Holdings (ENR), and Church & Dwight (CHD). CHD is behind the Arm & Hammer, Brillo, and Trojan brand names.
Procter & Gamble looks like the best company from a valuation standpoint. It has the second lowest P/E (behind Energizer), the lowest price to book value at 2.99, and a healthy 2.3% dividend yield. The company's stock price peaked in late December 2007 and is still 6.7% off its high.
Church & Dwight, on the other hand, reached new highs just two weeks ago. It is in a very steady, long-term uptrend. But it only pays a 0.5% dividend yield.
So, if you're looking for some income, choose Procter & Gamble. But if you're more interested in growth, go with Church & Dwight. Either way, you will sleep easy while the rest of Wall Street panics.
Good investing,
Ian Davis