In the words of my father-in-law, "The stock market stinks."
Benny was lamenting over the performance of his S&P 500 index mutual fund. He bought the fund back in 1999. And he sold it just a few weeks ago.
After taking into account all the reinvested dividends, Benny figures his rate of return worked out to just about 2% per year. "I'd have been better off in a CD," he said.
And he's right. Take a look at this nine-year chart of the S&P 500...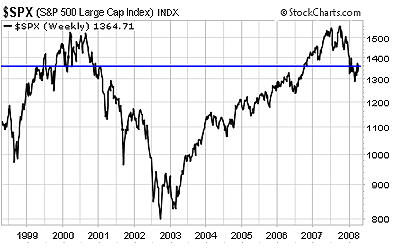 The S&P 500 was at 1,350 nine years ago, and it's at 1,350 today. Oh sure, stocks have been a bit higher and a bit lower. But for the most part, investors have suffered through nine years of stock market purgatory... and we're probably in for another nine years of the same thing.
You see, long-term stock market trends often last anywhere from 15 to 20 years. For example, stocks were in a strong bull market from 1946 to 1966. Then the bear took over, and stocks didn't make any ground from 1966 to 1982.
In 1982, we entered the greatest bull market of all time, and stocks rallied until the year 2000. Since then, however, the market has been trending flat to down. And if history is any sort of a guide, then we'll likely have six to nine more years of the same action.
The problem is that most investors, like my father-in-law, are still trying to use bull-market investment strategies to make money in a bear market. Back in the 1980s and 1990s, you could follow the rest of Wall Street's lemmings into an S&P 500 index fund and expect a reasonable rate of return.
That's not true anymore. If you want to make money in sideways or down-trending markets, then you need to be more involved with your investments. You need to do more research. You need to be willing to move in and out of stocks more often. And you need to incorporate strategies that work well in a sideways market.
One such strategy is selling covered calls, which I've written about extensively in previous issues of
Growth Stock Wire
(read my most recent essay
here
). Another technique involves setting aside a small amount of money for speculating – ideally no more than 10% of your net investment capital. It's surprising how much a few reasonable speculative trades can juice up the returns of a conservatively invested portfolio.
I'll share with you my basic philosophy for speculating in next Tuesday's Growth Stock Wire.
In the meantime, think about your own investment performance over the past several years. If you've been stuck in your own private stock market purgatory, then maybe it's time to shake things up a bit.
It would be pretty sad to look back nine years from now and say, "The stock market stinks."
Best regards and good trading,
Jeff Clark