The fate of the market is all up to Intel (INTC).
The world's largest semiconductor company announces earnings after the close today. And since the S&P 500 is sitting just above an important support level, investors' reaction to the Intel report can either kick off a significant rally or send stocks back down to their March lows.
You can see the various levels of support and resistance on this chart...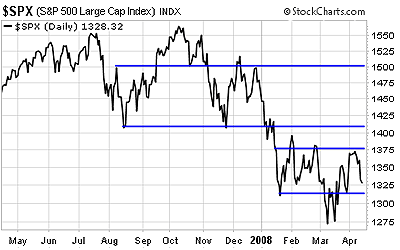 Currently, the S&P is stuck in a range between 1,320 and 1,380. A good report out of Intel might give the bulls enough juice to push stocks above the 1,380 resistance level and finally take a shot at the 1,405 level we've had our eyes on for so long now.
On the other hand, if Intel disappoints investors like General Electric did last Friday, then the bulls might just as well pack it in for a few more months. The bears will be in control, and stocks will likely make a new low for the year.
Keep in mind, Intel's earnings report back on January 15 caused a weeklong tailspin in stock prices. So it's dangerous to underestimate the significance of this company's announcement.
For my money, I'm going to place a small bet on the long side today.
Given the elevated put/call ratio, the chronic investor pessimism brought about by five months of constantly declining stock prices, and the ever-so-slight improvement of a number of other technical indicators, betting with the bulls feels like the right contrarian wager.
Besides, it seems as though just about everyone has given up on the chip sector. So the element of a surprise favors the bulls.
This is a speculative bet, and it can easily go the other way. But if you're willing to take a little risk, buying a handful of call options before the market closes today might look pretty good by tomorrow morning.
Best regards and good trading,
Jeff Clark