Last year, the Chinese stock market turned in one of the greatest performances in stock market history. The Shanghai Composite Index climbed as high as 128%... and finished the year with a 97% gain.
Now, however, the vast horde of inexperienced Chinese investors is suffering its first serious stock market correction. The Shanghai is down 35% year-to-date... and 44% from its October high. This makes the U.S. correction look like a hiccup in comparison.
So, where is China now in the "big picture?" Is this steep decline simply a correction, or is it the first few innings of a prolonged bear market? In my opinion, this is simply a long-overdue correction, and it's now nearing its end...
To illustrate why, let's take a look at one of the country's bellwether stocks, PetroChina (PTR). This stock saw its market value soar to over a trillion dollars last November.
At that level, it had the ludicrously high price-to-book ratio of 8.19. (For a frame of reference, ExxonMobil's price to book was 4.64 at the time, Royal Dutch Shell's was 2.47, and British Petroleum's was 2.84.) The stock's valuation was insane.
But today, after a huge decline, PetroChina is no longer expensive.
After shedding about $600 billion in market cap, the company is now selling for a more reasonable 3.8 times book value of (compared with Exxon, at 3.96).
And it's not just PetroChina... The rest of China's stock market tells the same story. Take a look at this chart...
China Corrects... But The Long-Term Trend Is Still Up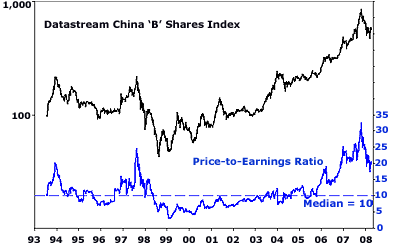 As you can see, the long-term uptrend that began in 1998 is still intact. The stock market also looks like it bottomed in late March. Since finding its bottom three weeks ago, the index has climbed 25%.
This is the solid long-term uptrend and a short-term bottom a trend investor looks for. However, since China did experience a serious correction, let's check how its notoriously expensive stock market looks right now...
As you can see from the above chart, China's price-to-earnings ratio has dropped to about 20. This is still significantly higher than its long-term median of 10, but significantly lower than it was a few months ago. Also, China's long-term P/E may not be particularly meaningful in this situation.
China is transitioning from an emerging economy into a developed one. Developed economies tend to have higher P/E ratios since they are considered "safer" investments. Thus, China's P/E ratio should logically be trending higher as investors become more comfortable with its financial markets.
Also, the stock market always looks to the future. When a company is growing its earnings quickly, that stock becomes inflated relative to its current (backward looking) earnings, but may remain reasonably priced once future growth is taken into account.
Right now, China has a P/E of 20.5... That is slightly higher than the U.S.'s P/E ratio of 17.2. However, China is growing much quicker. The U.S. had a year-over-year GDP growth of about 2%, China's was about 17%.
If you are interested in jumping on board the China train, you may want to take a look at some of the China ETFs. For instance, the iShares China Fund (FXI) tracks the 25 largest, most liquid Chinese stocks on the Hong Kong stock exchange. Another ETF is the PowerShares China Fund (PGJ). This fund tracks about 100 U.S.-traded Chinese companies with market caps above $50 million.
These two funds perform almost identically, so it comes down to personal preference. If you are investing a lot of money, you may want to consider the iShares ETF, since it is larger and more liquid.
Good investing,
Ian Davis