Back in December, I told you the
bleak story
of Neurocrine Biosciences (NBIX)...
A week earlier, the company had received a crushing blow from the FDA, dished out in a notorious "approvable letter."
Approvable letters are the FDA's way of turning a "yes/no" decision on a new drug into a "maybe." In other words, the drug is "approvable," so long as the drug's maker meets certain conditions.
In the case of Neurocrine's insomnia drug, Indiplon, the FDA wanted additional animal studies, plus two more clinical trials, which would have cost the company as much as $50 million. To be honest, the new requests were preposterous. But this isn't the first time the FDA has moved back the goalposts on a drugmaker...

Back in May 2006, Neurocrine received its first approvable letter for Indiplon, prompting its Big Pharma partner, Pfizer, to cut ties. The stock dropped from $50 per share down to $20. News of the second approvable letter this past December once again sent shareholders running...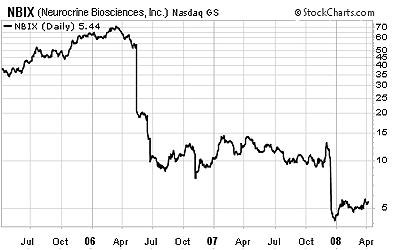 In December, I said the FDA would never approve Indiplon. Still, Neurocrine was not worthless. The company had about $4.50 in cash per share, more than 92% of its market cap.
In addition, Neurocrine had a pipeline full of innovative compounds. Its drug for endometriosis (a disease of the uterus) was in Phase IIb clinical trials. And GlaxoSmithKline was collaborating on drugs for anxiety and irritable bowel syndrome, both in Phase IIa testing.
But before I was willing to jump into the stock, two things needed to happen:
1. Neurocrine management had to show some resolve, take Indiplon behind the woodshed, and kill it.
2. The stock needed to get a bit cheaper to provide investors a larger margin of safety.
Both things happened in a hurry...
Long-time CEO Gary Lyons resigned in January – less than a month after sending pink slips to half of the company's employees. Chief Operating Officer Kevin Gorman took the post and immediately won me over on his first conference call:
"There are no expenditures in our budget for Indiplon going forward..." Indiplon is no longer a threat to the company's coffers.
The stock popped up in the news, then traded back down to around $4.50 per share – our fair-value estimate – making Neurocrine a true bargain.
One San Francisco-based biotech hedge fund I admire – the Biotech Value Fund – jumped in. The firm scooped up more than 2 million Neurocrine shares during February and March at an average cost of $5 per share.
If you bought in February, when Neurocrine qualified as a "no-brainer" trade, you're already up about 15%. And I firmly believe that Neurocrine will trade above $8 per share within the next 12 months, a return of roughly 50% on the year.
The Neurocrine story exactly fits the bill for trades I will be featuring in my newsletter, the S&A FDA Report.
Based on our eight-year study, buying the best stocks after they've been hit with an FDA setback returns an average of 75% in a year. I'm confident Neurocrine will follow suit.
Good trading,
George Huang, PhD