In the last six months, only 19 of the 100 sectors I track have reached a new high.
And almost all of the 19 are related to commodities. They include miners, producers, explorers, and transporters of minerals and energy.
But there are a couple of exceptions...
With the recent buyout of Budweiser by InBev, brewers reached new highs about seven weeks ago. Another out- performer I've written about before is the
Biotech sector
. It's making new highs despite the slowdown in the economy.
The most recent sector to climb to new highs is related: medical equipment makers.
Medical equipment makers are close cousins to the biotech sector. Both research and develop products for the health care industry. But this sector is not as cyclical as biotech.
It's up 5.6% in the last six months. The S&P is down 9.3% over the same time.
Medical Equipment Companies Fall Only in Times of Extreme Panic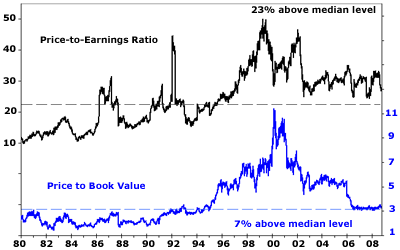 As you can see, two severe selloffs have occurred in the last 18 years.
The first happened at the tail end of the dot-com bust in mid-2002. This decline roughly matched the S&P 500's performance at the time (medical equipment makers declined 31%, the S&P 28%). It was a simple case of universal panic.
The other began at the end of 2005. A cardiac defibrillator paddle malfunction caused the death of a 21-year-old. As you can imagine, investors were spooked. The entire sector sold off by about 18%.
Besides these two instances, the sector's returned a consistent 11% per year.
However, medical equipment makers are slightly expensive right now. They have a price-to-earnings ratio of 27.6, 23% above their long-term median of 22.4, and a price-to-book ratio of 3.36, 7% above their long-term median of 3.1.
The Medical Equipment Sector Is Slightly Expensive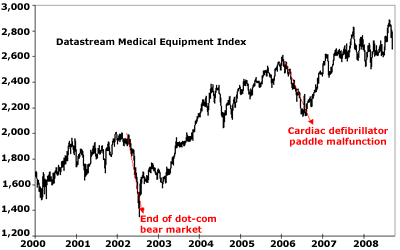 So are medical equipment makers a good buy?
I'd wait for a selloff before buying. The sector is not immune to investor panic. And I think we could easily run into another bout of panic before this bear market is over.
However, as a long-term hold, medical equipment makers are hard to beat. The sector has shown a fairly consistent 10% annualized return since the 1970s.
Good investing,
Ian Davis