My canary died on Monday.
Merrill Lynch (MER), Wall Street's version of the
canary in the coal mine
, agreed to be taken over by Bank of America.
My heart sank on the news.
You see, for the past 25 years,
MER
has been my absolute favorite market-timing indicator.
The action in MER was a terrific signal of market direction. The stock would often reverse course moments before the market did the same. And if you followed the action in the stock, then you could jump in or out accordingly and profit quite well.
I often wrote about this strategy in Growth Stock Wire. So maybe your heart sank a little last Monday, too.
For all intents and purposes, Merrill Lynch stock is now dead. And dead canaries are lousy market timers. So I'm looking for a new pet.
Maybe we can use the new Bank of America (BAC). After all, if it swallow MER, maybe it will absorb some of the canary's tendencies. But something about that doesn't seem right. It's like we're taking in the stray cat that ate our pet bird.
Besides, as you can see from the following chart, the action in BAC doesn't correlate well with MER's...
This is a ratio chart comparing the action in BAC to the action in MER. The direction of the chart doesn't matter. What we're looking for here is something close to a straight line. A straight line indicates the two stocks move in tandem.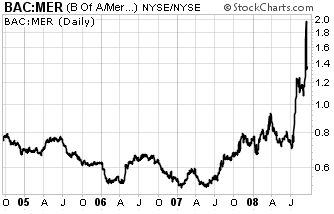 Clearly, that's not what we have here.
Perhaps we can turn to Morgan Stanley (MS) or Goldman Sachs (GS). But neither of those has the institutional following of Merrill Lynch. And their average trading volume is less than 33% of MER.
So the search for a new canary continues.
It may take some time, but I'll find another short-term timing indicator. And when I do, you'll be among the first to know about it.
For now, though, we can't use MER anymore. The shares are trading more as an arbitrage position against BAC than as a leading indicator. The canary is dead.
Rest in peace, Merrill. You were a good bird.
Best regards and good trading,
Jeff Clark