Q: What's happening in the natural gas market? Prices are all over the place. – A.J.
A: Don't put too much stock in short-term "noise."
And don't buy the "brave new world" theory of trends. That's when talking heads come out and justify crazy prices, loading latecomers into the top of the market. (We saw it when oil hit $140 per barrel and analysts were saying it was going to $500... and we saw it again when natural gas was $12 per mcf.)
Take a look at this chart of natural gas. As you can see, the two-year trend is up, despite some wild fluctuations.
The Two-Year Trend Is Up in Natural Gas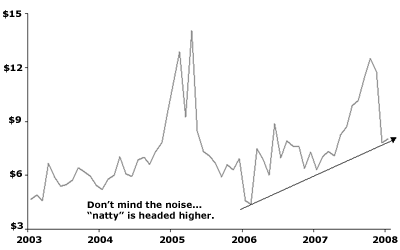 The bumps in the chart are just noise and speculation. As long as you didn't load up at a top, it doesn't really matter. What matters is the inevitable price appreciation of natural gas...
We're about to lose 19% of our natural gas supply.
I used to think that it was coming in a few years, but now I think we'll see a major supply crunch within the next 18 to 24 months.
Canadian oil sand companies
are ramping up bitumen production in a big way. Even though oil prices are down 35% or so, $90 per barrel is still great. These companies need to get $30 to $45 per barrel of bitumen to be economic. Anything above $60 is a good business.
I think we'll see production grow anywhere from 500,000 barrels per day to 1 million barrels over the next 24 to 36 months. Each barrel of bitumen production will consume between 1,000 cubic feet and 3,000 cubic feet of natural gas.
I lean toward the larger number, because the new production is "in situ" – wells that rely on heat to melt the bitumen rather than mining it.
Using 3,000 cubic feet per barrel, Canada's oil sand companies will consume 3 billion cubic feet of natural gas for every million barrels of production. The sector expects to add 1.2 million barrels of production by 2010.
That means Canada will have 3.6 billion fewer cubic feet of natural gas to export to the U.S. It exports 10 billion cubic feet per day right now. And that's 19% of our total consumption.
In other words, we should see our natural gas supplies shrink 6.8% within 18 months.
If Canada adds another 2 million more barrels of tar sand production, which I think could happen in the next three years, it would consume every molecule of natural gas Canada exports to the U.S. now. That would put us down 19% on our natural gas supplies.
In the meantime, we'll have a new administration making a big show of cleaning up carbon dioxide emissions. Right now, the solutions lean heavily on natural gas.
That's why I'm a long-term natural gas bull and why you should ignore the short-term noise that clutters up the trend.
Good investing,
Matt