If you want to know if Tuesday's explosive rally has staying power and will push higher... or if it will fizzle out and turn into another of those one-day-wonders... then keep an eye on this chart: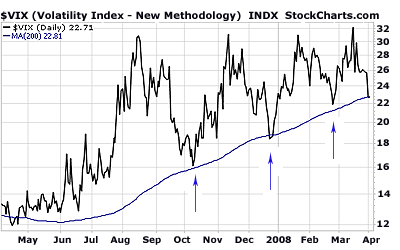 This is a chart of the Volatility Index measured against its 200-day moving average.
The Volatility Index measures the implied volatility factored into the price of S&P option contracts. In simple terms, it's a measure of fear. When traders are afraid of losing money in stocks, they'll often pay up to buy protection in the form of index put options. The increased demand for puts inflates the option premiums... and the VIX rises.
On the other hand, when investors are complacent and don't see much need for downside protection, the lack of demand for put options causes the premiums to contract... and the VIX declines.
Smart traders often use the VIX as a contrary indicator. For example, bottoms in the VIX often coincide with tops in the market, and tops in the VIX often signal stock-market bottoms.
The three arrows on the above chart indicate when the VIX tested the support of its 200-day moving average and then bounced off it. Each of these three previous periods corresponds to short-term peaks in the broad stock market.
Right now, the VIX is once again testing its support level – and the next move is critical.
If the VIX bounces again and starts to head higher, then the stock market will likely roll over (again) and we'll give up the gains from Tuesday's rally (again). On the other hand, if the support of the 200-day moving average fails, and the VIX can fall decisively below the line, then we could see stocks mount a sustainable rally that lasts several weeks and blasts the S&P 500 up and over the 1,400 zone – perhaps even as high as 1,450.
Personally, I'm betting the VIX declines and we get a rally. But I'll change my opinion in a heartbeat if it starts to run the other way.
Keep an eye on this chart. We'll know more within the next few days.
Best regards and good trading,
Jeff Clark