Every once in a while, it makes sense to step back and take a look at the big picture...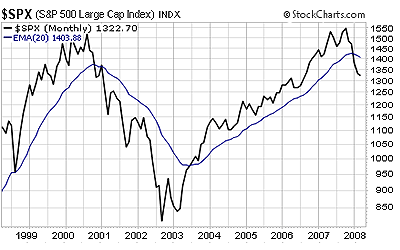 This is an updated version of the monthly chart of the S&P 500 plotted against its 20-month exponential moving average (EMA). It's quite simple to read. If the S&P is trading above the 20-month EMA, then stocks are in a bull market. A bear market exists when the S&P 500 is below the line.
As you can tell from the chart, stocks entered a bear market at the end of 2007.
The easiest way to profit in bear markets is to aggressively short-sell stocks as the inevitable bear-market rallies push stocks back up toward the 20-month EMA. So far, though, we haven't seen any bear-market rallies.
Oh sure, we've seen plenty of 300- and 400-point rallies in the Dow in reaction to the Fed throwing billions of dollars into the system. All those rallies have done, though, is whipsaw the bears and suck in the bulls that were afraid of missing the bottom. That's the type of environment in which everyone loses money.
We haven't yet seen the multi-week rally that boosts the S&P 500 back up toward its 20-month EMA and generates the type of overbought conditions that create low-risk short selling opportunities. And I'm betting it's just around the corner.
Stock prices have declined for five consecutive months. Investor sentiment is horribly pessimistic. And the news flow is about as negative as I can ever recall. It's the perfect setup for a countertrend rally.
Eventually, stock prices are headed lower. We're likely to see the S&P trade below 1,100 and the Dow trade near 10,000 before this bear market is over.
But just as stocks don't go straight up in a bull market, they don't go straight down in a bear market. After five months of falling stock prices the market is overdue for a trending move to the upside.
I'm not talking about a long-term trend here, or the emergence of a new bull market. I'm talking about a bear-market rally... a rally that lasts just long enough and runs just high enough to cause investors to change their outlook and start chasing stocks higher rather than use every triple-digit gain in the Dow as a selling opportunity.
It's coming. And it may get here sooner than you think.
Best regards and good trading,
Jeff Clark