Something is out of whack here.
Today, gold stocks are priced the same as they were 2.5 years ago, when gold was just $500 per ounce.
This means either the metal itself is overpriced and will decline to match the performance of the stocks... Or the stocks are overcooked to the downside and will rally to reach parity with the metal. We may even get a combination of the two.
I think the chances favor a rally in the stocks.
They've just performed so poorly compared to the metal. Look at this chart of the relationship between the price of gold and the price of gold stocks...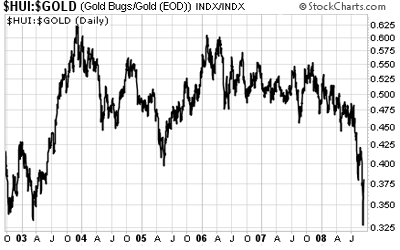 When this chart is rising, it means the stocks are outperforming the metal. A falling chart means stocks are underperforming.
As you can tell from the recent cliff dive on the chart, the selling in gold stocks is much worse than the selling in gold. And gold stocks are now trading at their lowest relative value since early 2003.
And back in early 2003 – the last time gold stocks were this low – the HUI rallied more than 100% in about nine months.
We've also got the bullish percent index (BPI) on our side. As I mentioned
last week
, the BPI measures the percentage of stocks in any given sector trading with bullish "point-and-figure" chart patterns.
Whenever the bullish percent index for a sector drops below 20%, it's oversold and due for a bit of a bounce. If the BPI rallies above 80%, it's overbought and traders should be on the lookout for a correction.
Of the 35 stocks in the Market Vectors Gold Miners ETF (GDX), only one has a bullish point-and-figure chart. So the bullish percent is just one out of 35, or 2.9%.
At only 2.9%, gold stocks are just about as oversold as they can get. The pressure to bounce back is tremendous.
Think of it like diving into a swimming pool while holding on to a basketball. As you swim toward the bottom of the pool, the pressure on the basketball becomes extreme. Eventually, you have to let go... The ball shoots up toward the surface of the water and explodes through it with a burst of energy.
The farther underwater the ball, the more powerful the explosion.
With the gold-stock BPI below 3%, there's the potential for one heck of an explosion.
All gold stocks move together. So it's not too important to find the one stock with the cheapest valuation or the one with the best-looking chart pattern. If the gold bugs index (HUI) does what I think it will do over the next few months, then everything in the gold sector will benefit.
It's time to buy just about anything with gold in its name.
Good investing,
Jeff Clark