The stock market is full of tells you can use to make extra money and protect your cash.
In poker, a "tell" is an unconscious act that tips off your opponent. For example, many players' hands will shake when they get great cards. Anyone thinking about bluffing might notice the tremor and decide that folding is the better option.
A similar stock-market tell – and one of my favorites – is the "blow-off top."
A blow-off top is a period of wild appreciation at the end of a bull markets. During the blow-off top, naysayers and worriers finally give up and join the party. This extra wave of buying leads to spectacular gains. But soon, no one is left to buy. The smallest amount of selling can lead to a wholesale exodus.
Take China for example...
In the four years between August 2003 and August 2007, China was in a raging bull market, growing by an average compound rate of about 2.4% per month (33.2% annualized).
Like many bull markets, the party ended in a blow-off top. Chinese stock prices rose 81.8% in just two and a half months.
It was a good tell. In the following three months,
Chinese stock
prices were almost cut in half, falling 37.3% from their high.
Steel's tell came nine months later.
In April, steel prices saw a blow-off top. Between mid-March and mid-April steel prices went parabolic, climbing from $299 to $454 per ton: an unbelievable 51% gain in a single month.
So on April 28, I waived a
cautionary flag
: "
I believe the trend has developed from steady, linear growth... to unsustainable, exponential growth
."
As you can see from the following chart, the tell couldn't have come at a better time.
Steel Blows Its Top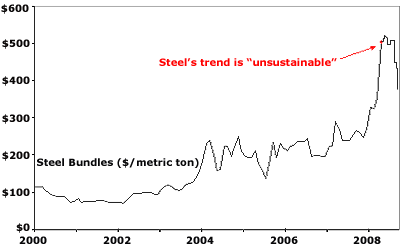 The price of steel is down 28% from its high and shows no signs of strengthening.
I thought steelmakers would make great short candidates once steel's uptrend collapsed. During the blow-off top, the situation couldn't have been better for U.S. steel producers. They were benefiting from high steel prices. And they were benefiting from a cheap U.S. dollar, which gave them a competitive advantage when they shipped steel overseas.
But as I wrote, "Things might look rosy now, but let's not forget... steel is a cyclical commodity business. It's prone to big booms and busts."
Since then, steel's collapsed, and the dollar is up 14% against the euro. Nucor Corporation, the largest U.S.-based steel producer, is down 45% since it peaked in mid-May. Steel Dynamics, the other company I mentioned in April, is down 43% since June.
So the next time you think you're looking at a blow-off top, see if you can find a company with everything lining up perfectly in its favor. The more going right for a company today, the more that could go wrong tomorrow.
Good investing,
Ian Davis