It's amazing what a 50% decline does for insiders...
In September, investors pulled $43 billion out of mutual funds and hedge funds... The largest one-month withdraw ever. The October totals will be even greater. Folks just can't stand the stock market anymore.
And it's hard to find a sector that's suffered more from this money flow than the oil and gas industry. The industry had been one of the most popular trades of 2008. Now that funds are dumping their stocks, this sector is getting slammed. Just take a look at these losses since June:
ExxonMobil (major integrated) took as much as a 40% dive... Transocean (offshore drilling) is down 60%... Chesapeake Energy (natural gas) is down 70%... Schlumberger (largest oil services provider) is down 55%.
These are enormous moves in such a short time. They're panic moves.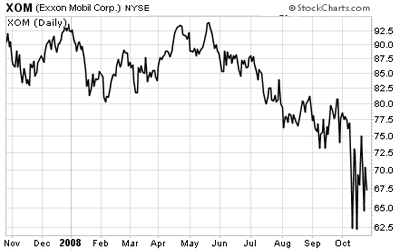 But panic squeezes opportunity out of any market, and insiders know it. So of course, we've seen a lot of insider buying in the past month. In fact, the buy ratio for energy insiders is at watershed levels right now.
This ratio is simply the number of companies with corporate insider buying, divided by the number of companies with corporate insider selling. It's a great way to gauge insider sentiment.
Right now, the insider buy ratio for energy is more bullish than it's been in a decade.
For the past four weeks, this ratio has stood at 54%. It's usually closer to 30%.
The last time energy insiders were even remotely this bullish was late last year. The ratio then was just above 45%. It was the bottom for oil in 2007, and it preceded the huge runup in energy prices that we're coming down from now.
I don't think we'll see oil double again... at least not any time soon. But after falling from July highs, the whole sector's ready for a relief rally. Energy insiders have been buying everything related to energy... oil drilling, oil production, oil services, natural gas, pipelines, even utilities are being snapped up by insiders.
Traders should take note. With energy stocks so beaten up, I think a relief rally will bring quick gains. We don't have the trend on our side yet, but the entire sector is worth keeping your eye on.
Good trading,
Brian