Q: With all the uncertainty and volatility in the stock market... and with our government printing money like it's going out of style, I would think we should see gold and silver shoot to the moon. Can you give me your take on why these two are pulling back? – V.W.
The recent descent of the entire commodity complex is a classic example of how humbling this job can be. I agree that, from a fundamental perspective, gold and silver should be soaring right now. In fact, I based several of my recent trades on that idea.
I also said that same thing to 900 people at the Agora Financial Investment Symposium in Vancouver last month. Please accept this mea culpa. In the short term, I was wrong.
Gold and silver got caught in a massive trade that came undone... About six months ago, the Federal Reserve had a choice to make: fight inflation or bail out financials. It chose the latter.
So hedge funds bought the entire commodity sector as part of a bet against the U.S. dollar. These investors based their trades on the same theory – that real assets (gold, silver, oil, grains, and other commodities) were going to increase in value.
However, the Achilles heel of that trade was oil, which made up a big chunk of the investment.
The price of oil rose quickly, and I'd say irrationally. In a June issue of
Growth Stock Wire
, I told you demand could fall and take the
price of oil
with it. Lo and behold, that's exactly what happened. The price of oil has fallen 23%, from $145 to $112 in just 26 trading days.
Investors panicked.
Funds began to sell oil and unwind the trade against the U.S. dollar – which began to rally. As the dollar got stronger, investors bailed out of gold and silver. That sent precious-metals prices off a cliff with all the other commodities.
I think we're seeing the other side of market exuberance – the same energy that drove oil to $145 a barrel is taking it back down again. Just as that tide brought all commodity prices up with it, everything, including gold and silver, will sink as it washes out.
Take a look at this gold chart... From at least summer 2003 through June 2005, the
price of gold
climbed gradually. From June 2005 to August 2007, gold picked up speed.
Gold Rose in Three Stages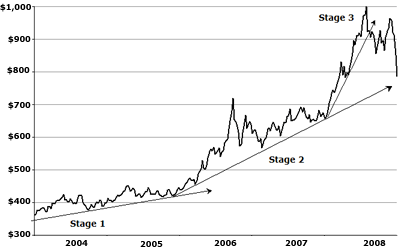 Then from August 2007 to March 2008, the price of gold went parabolic. Despite the fundamental arguments in gold's favor, that was simply too far too fast.
If you extend the Stage 2 line out, the price of gold should be around $770 an ounce. That's where I think this fall should end... about 4% below where we are now. And I'm happy about that.
First, this rapid fall in precious metals in particular, and commodities in general, put the fear of the almighty in the market. My S&A Oil Report subscribers took profits on a dozen stocks as they hit our trailing stops. We're building up cash in the bank and preparing for the next step.
Right now, mining companies and oil companies are getting really cheap. I think this fall in commodity prices will shake out the "weak hands," investors who'll sell their shares at any price. After cashing out early in the decline, we'll be there to pick up the pieces at a tremendous value.
Good investing,
Matt Badiali