Like a Major League Baseball umpire who makes a controversial call during a playoff game, I make no apologies for today's headline. I have to call 'em as I see 'em. And there's just no other way to describe the folks appearing on CNBC these days. They're nuts.
Six weeks ago, everyone was talking about oil going to $200 per barrel. It was a foregone conclusion. Insatiable demand from China and India combined with tight supply out of oil-producing countries could only mean one thing: higher
oil prices
.
Today, however, it's a different story. Oil has fallen from $147 per barrel down to $113. And trying to find a bullish oil analyst is like trying to find a Democrat who admits voting for John Edwards (or a Republican who admits voting for Bush).
It seems everyone has turned bearish.
But as you can tell from the following chart, the oil bull market is alive and well...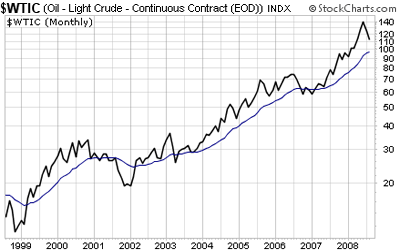 This is a monthly chart of the price of oil plotted against its 20-month exponential moving average (EMA). I showed you a similar chart of the
S&P 500
back in January.
A chart trading above the 20-month EMA line is bullish. A chart below the line is bearish.
Despite the severe selloff over the past few weeks, oil remains in a bull market. It will take a drop below $97.30 per barrel to shift things bearish. Right now, though, this price decline is nothing more than a significant correction in an ongoing bull market.
Of course, that's of little comfort to anyone who's been holding on to oil stocks through the entire correction. But the warning signs were there. In fact, on July 3, when everyone on CNBC was still talking about the potential for $200 oil,
Growth Stock Wire
readers were warned of a "
swift and severe
" decline.
Now that oil has fallen 23% in six weeks, oil stocks indexes are down more than 25%, and all the analysts have turned bearish... it's time to consider buying into the oil sector.
You'd have to be nuts not to.
Best regards and good trading,
Jeff Clark