There are still eight days left until Halloween, but it's already pretty darn scary out there.
The bulls are scared the market may violate the lows of October 10. The bears are afraid of another sudden snapback rally. Corporations fear a global recession will wipe out their bottom lines. And consumers are scared they won't have any purchasing power this coming Christmas.
Bond buyers fear the potential for default. Bond-rating services are afraid their internal e-mails will be read aloud before a Senate subcommittee.
According to a recent Investor's Business Daily poll, 42% of the voting population is afraid Barack Obama will be elected president... and 46% fear it will be John McCain. The remaining 12% is scared of both.
OPEC is afraid it can't keep oil prices high. Airlines and automakers fear oil won't stay this low.
Bank customers fear their money isn't safe. And the U.S. Treasury is afraid the $700 billion bailout plan won't be enough.
With all of this fear in the markets, you'd think investors would be rushing to purchase gold. I'm afraid it may be different this time.
On Tuesday, I wrote about how gold and gold stocks were compelling buys. Yesterday, I spent half the day washing the egg off my face.
Gold is down $60 per ounce since Tuesday. And gold stocks are off an average 20% in just two days. The ratio of gold stocks to gold, which I told you showed gold stocks were at their most attractive levels since 2002, is now at its most attractive level since 2001.
Take a look...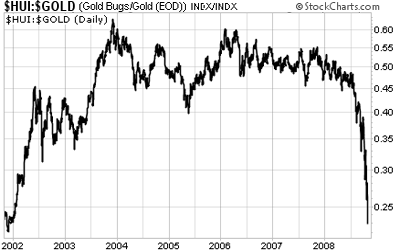 This is remarkable.
In an environment where governments all over the world are printing money and financial catastrophes occur daily, gold should be rallying.
The fact that gold can't catch a bid tells me the forces of liquidation are stronger than the forces of economy. In other words, investors, governments, institutions, and hedge funds are raising cash and will sell anything and everything to get it.
This creates a very scary environment in the short term. It's an environment in which price doesn't matter. And logic doesn't matter. All that matters is the need to deleverage and raise cash.
The biggest risk, though, is not to gold or to gold stocks. The biggest risk is to the general stock market.
I don't use leverage in my own investments, and I limit my speculative activities to just 10% of my portfolio. Clearly, the rest of the world doesn't operate this way. So when funds need to unwind 30-to-1 leveraged bets, conservative traders are held hostage.
I'm tempted to buy any number of stocks trading at historically low valuations. But now, I'll wait until they get even lower. And they will.
The stock market will probably rally today. In fact, it wouldn't surprise me at all to see a 400- or 500-point rally in the Dow Jones Industrial Average. But I'm scared about what happens on Friday and what happens next week.
The market is not responding as it should to oversold conditions. It's not responding to positive earnings announcements. And it's not responding to bullish comments from analysts.
It is responding to liquidation requests. And I fear we haven't seen the last of them.
There are terrific bargains in the stock market right now. If you have the ability to buy and then close your eyes for the next few months, you'll be happy with the results. The problem is with the next few weeks.
So sit tight on your cash for now. You'll soon have an opportunity to put it to work. And it may be with the markets at significantly lower levels.
Best regards and good trading,
Jeff Clark