This market offers no guarantees.
But I'm confident one sector will be higher three, six, nine, and 12 months from now. It's the gold stocks.
Last Friday, on a conference call with S&A subscribers, I confessed I bought gold stocks during last Thursday's wicked decline. I also bought them when they opened lower on Friday.
My bullishness on gold stocks probably came as a surprise to many listeners. And I'm sure it surprised the other editors at S&A. But the other editors probably didn't see this chart...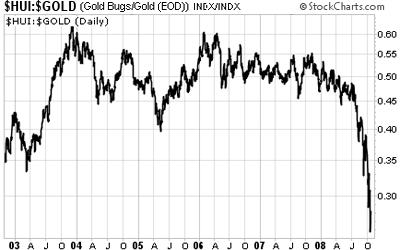 This chart compares the action in gold to the action in gold stocks. If the chart moves higher, gold stocks are outperforming the metal. And if the chart moves lower, gold is outperforming the gold stocks.
Right now, gold stocks are at the lowest relative value to gold in over six years. In other words, gold stocks are cheaper now, relative to the price of the metal, than they have been since the golden bull market started back in 2002.
Of course, the stocks can get cheaper still. But that's a historically low probability. Either gold stocks have to rally from this level, or gold itself has to fall.
The price of gold could fall from here, but I wouldn't bet on it.
The unprecedented printing of money by the U.S. and all other central banks is inflationary.
We can argue about the slowing economy. We can argue about the deflationary affects of crumbling asset prices. And we can argue about how hedge funds and other institutional liquidations are temporarily depressing the price of gold.
But when the U.S. Treasury elects to print money in an effort to bail out the banks, brokerage firms, insurance companies, retailers, automobile manufacturers, airlines, mortgage brokers, rating agencies, credit-card companies, and consumers, gold becomes more valuable. There is no argument against this.
And if gold rises in price, so too will gold stocks – especially if the stocks are starting from depressed levels.
Like I said, there are no guarantees. Gold stocks could trend lower over the next few days. But if you were to ask me where I'm putting my own money right now in order to profit over the next three, six, nine, and 12 months, well... I'm buying the gold stocks.
Best regards and good trading,
Jeff Clark