This trade is too good to be true.
In fact, it's a lot like strolling along the sidewalk and finding a bag of $100 bills just sitting there in your path. You might be suspicious at first. After all, how can you be so fortunate? Why didn't somebody notice the bag before you?
Are you being set up?
It's natural to doubt the validity of a trade that seems too easy. But the trade I'm going to tell you about today has happened 10 years in a row... And it is setting up again perfectly this year.
I'm still naturally suspicious... I can't believe it sets up so well every year. But despite my doubts, the smart thing is to pick up the bag of cash and continue strolling along.
The trade is in natural gas.
Natural gas sells off every summer and then rallies through the fall. Take a look for yourself...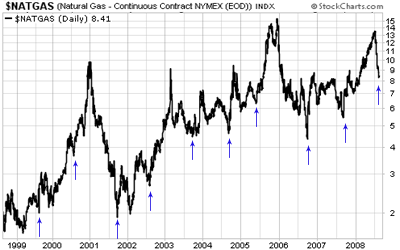 The blue arrows point to the summer bottoms that occur every year just before a fall rally.
I didn't think we'd get a shot at this trade this year. After all, natural gas prices rallied nearly 100% during the first half of 2008. And it looked like they were never coming back down.
But prices have collapsed over the past four weeks. Now the most consistently profitable trade I've ever seen is setting up perfectly for this year as well.
Of course, there's no way to know for sure where the bottom is. Natural gas may be hitting its low right now, or it may fall another 10% or 20% from here. So we can't just go out and buy natural gas futures today and expect it to be profitable.
We need to have a strategy that protects us against farther downside, yet still offers strong upside potential.
In yesterday's issue of Advanced Income, I recommended just such a strategy to subscribers.
Last year, we used this exact same strategy to collect a 31% "income payment." It ought to work out pretty well this year, too. I urge you to come on board with a risk-free trial of Advanced Income. I don't say things like "most consistently profitable trade I've ever seen" very often... so make sure you're in it.
Best regards and good trading,
Jeff Clark