The world is getting riskier... just look at the numbers.
High-yield bonds, also known as "junk bonds," are riskier than regular government bonds or traditional "investment grade" bonds. These are bonds issued by companies that have black clouds hanging over them. And they offer higher yields to compensate investors for the increased risk.
As recently as one year ago, high-yield bonds yielded just 2.7% more than risk-free Treasury bonds. This was a small premium to compensate folks for taking on extra risk. Boy, has that changed...
High-yield bonds now yield 6.2% more than Treasury bonds. Investors are demanding higher rates of interest because of the credit crisis and inflation concerns.
Another nasty number for risk: 28%. This is the loss in the Datastream Property and Casualty Insurance sector since last summer. This industry insures against all types of personal and property damage. For a price, these companies absorb the risk of owning assets or getting hurt.
As you can see from the chart below, investors don't want to own stocks in the business of risk. The property and casualty insurance sector has been "guillotined" in the last year. Even Warren Buffett's powerhouse insurance firm, Berkshire Hathaway, has lost 22% of its value recently.

Property & Casualty Insurance Takes a Nosedive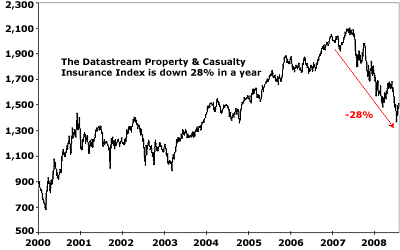 This 28% haircut has made the property and casualty insurance sector one of the cheapest around.
Property and casualty insurers are trading for less than 10 times earnings and close to book value. They're also trading at good discounts to their historic levels. The price-to-earnings ratio for the sector is currently 13% below its median. The price-to-book ratio is at a more modest 8% discount.
Despite these cheap valuations, I don't expect much from this sector for months to come. When a sector experiences a severe selloff, it usually grinds sideways, even dropping a little. I call this the "sandpaper" stage. We have to wait for investors to get frustrated enough with the sector to give up completely.
So I don't think now's the time to buy. But the sector is getting incredibly cheap... and it should be a terrific buy soon (more credit problems are the wild card here, however).
When that time comes, the best-performing insurance ETF is the PowerShares Dynamic Insurance Portfolio ETF (PIC). This ETF tracks an index of 30 U.S. insurance companies. You also have the ultimate insurance stock, Berkshire Hathaway, to consider.
Good investing,
Ian Davis