Jim Cramer is right... Well, sort of.
Last Wednesday, Cramer – host of CNBC's "Mad Money" television show – announced, "The bear market is over." The Dow responded by dropping more than 300 points in the next three trading sessions.
But before we dismiss Cramer to go wash the egg off his face, let's explore the possibility that the bear is dead.
Forming a bottom is a complicated process for stocks. It typically involves a stock hitting a low, bouncing, and then coming back down to retest the low. This action creates a "W" pattern on the chart.

We saw this "W" pattern when the previous bear market ended back in 2002...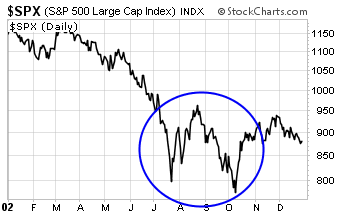 And the best time to buy stocks would have been on the retest of those lows.
We also saw a shorter-term version of this pattern back in March, right before the market exploded higher for two months...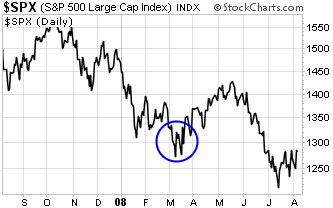 Here again, the best time to buy was on a retest of the lows.
Perhaps the market is trying to form a bottom now by retesting the recent lows and thereby forming a "W" pattern. But is this a major bottom signaling the end of the bear market? Or, is this another short-term bottom kicking off a few weeks of rally before rolling over and making even lower lows?
I think it's the latter.
September and October are notoriously bearish months for the stock market. In fact, take another look at the first chart of the S&P 500 in 2002. Notice the initial bottom in July that preceded a strong rally through August. The bears took over in September and clobbered the index straight down until the final bottom in mid-October.
That's the road map I'm working off of. And it fits in perfectly with my long-held belief that a new
bull market
will kick off right after the Presidential election.
But Jim Cramer is right for the short term. Although his timing could be a bit better.
Best regards and good trading,
Jeff Clark
Further Reading:
Retail behemoth Wal-Mart hits a new high... up 28% this year.
Medical stocks still running
... Johnson & Johnson, Varian, Valeant, Covance, Thortec, and Celgene at new highs.
Falling oil prices fail to help shippers... Aries Maritime, Danaos, Teekay and Top Tankers... both stocks find new lows.
Earnings today
... Barr, Barclays, Crocs, ATP Oil & Gas, Martin Marietta, Penn West, Winthrop Realty, Toyota.