Gold has farther to fall, but
gold stocks
are close to a bottom.
Let's take a look at the big picture. Here's a weekly chart of gold plotted against its 65-week moving average...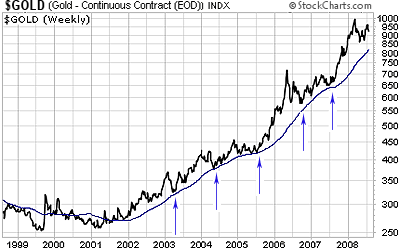 During every correction in the entire six-year gold bull market, the 65-week moving average served as support. So the best time to buy gold was when it pulled back to touch the line.
And whenever gold rallied too far above the 65-week moving average, gold either dropped back down or consolidated while the line played catch-up. Right now, we're in one of those consolidating periods...
The 65-week moving average line is currently at about $820 and rising. I think it will take a few more weeks, and a drop in the price of gold to about $850, before we get a low-risk buying opportunity.
But we don't have to wait that long to buy gold stocks.
Gold stocks typically lead the price of the metal. So they bottom and rally before gold.
But the stocks are much more volatile than gold. And the 65-week moving average doesn't provide quite as much support for gold stocks. In fact, gold stocks typically don't bottom until they break down below the 65-week moving average line. Take a look...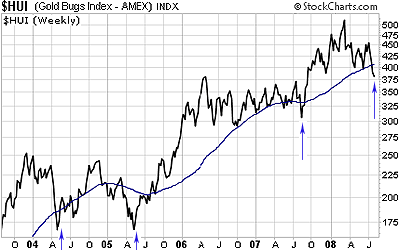 The gold bugs index (HUI) broke below the line last Friday, and is on the verge of creating the type of "washout" selloff that has marked a bottom for the sector in the past.
I'm guessing it will happen sometime in the next week or two. And when it does, it'll be the best opportunity in years for us to pile into the gold sector.
Best regards and good trading,
Jeff Clark