The S&P 500 is down 13% over the past five trading days. The Nasdaq Composite is off 16%. And the Dow has lost 1,400 points.
Investors are scared. Institutions and hedge funds are scared. And governments are panicking.
All of that fear is showing up in the chart of the Volatility Index (VIX). Take a look...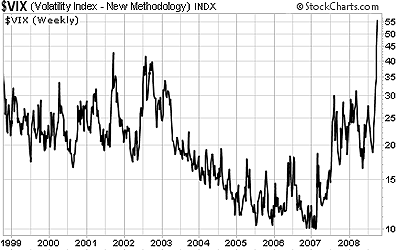 The VIX measures the premiums investors are willing to pay for option contracts. When the market is falling and fear is high, investors are willing to pay more to purchase protective put options. When the market is rallying and investors are complacent, they're not willing to spend so much.
So, really, the VIX is a measure of fear. It's higher today than at any point in the past 10 years. And option prices are expensive.
Many traders recognize the values in the stock market and are looking for opportunities to buy into stocks using call options. This is a mistake. Call options are expensive, and most stocks won't move high enough fast enough for call buyers to make money.
You should be selling puts instead. In fact, this is the best time EVER to be selling put options.
By selling put options, you agree to buy a stock at a specified price by the expiration date of the option. And you get paid cash up front for that obligation.
Take Petrobras (PBR) as an example. PBR is the national oil company of Brazil, and one of the largest oil companies in the world. The stock is down 65% from its high in June. And much of that loss came in just the past two weeks. At $30 per share, PBR trades at nine times earnings – which is in the low end of its historic valuation range.
I happen to think PBR is a terrific buy under $30 per share. So yesterday, I sold the PBR October 30 puts. I received $4 per share in premium for selling the option. And I'm obligated to buy the stock for $30 per share if PBR closes below that level on option-expiration day in October – just one week from tomorrow.
PBR closed yesterday just under $30. If it can rally above $30 by next Friday, then the October 30 put option will expire worthless and I'll keep the entire $4 per-share premium as a profit. That's a gain of $400 on every option contract.
Since I'm obligated to buy PBR at $30, and I received $4 for that obligation, this trade will be profitable as long as PBR doesn't drop below $26. So selling puts also protects me from additional downside.
This is just one example of the kind of opportunity that exists in the market right now. You could make a fortune in the next three months using this strategy.
This past Monday, I gave S&A Short Report subscribers four puts to sell in the gold sector. All four of those positions are now selling for less than half the premium we received. That's a 50% gain on four recommendations in two trading days.
We're up $440 for each Agnico-Eagle October 45 put option we sold. Each short Goldcorp October 25 put has generated $260 in profits. We've made $230 selling one Newmont Mining October 35 put. And we're up $170 for each Kinross Gold November 15 put option we sold.
These four recommendations combined have made $1,100 in two days from selling just one contract each. Imagine the gains you'd have from selling five or 10 contracts.
I'll have several similar ideas for Short Report readers next Monday.
This is the time to make your year. The options market is erupting with cash right now. All you have to do is reach out your hand and grab some.

Best regards and good trading,
Jeff Clark