How would you like an investment with a 15.5% yield?
Right now, one sector of the stock market is paying an average 15.5% annual dividend.
Two weeks ago, this sector was paying out even more – nearly 18%. An 18% yield is about six times the yield on Treasury bonds. In fact, these stocks are by far the highest-yielding investments in the stock market.
These are business development companies (BDCs). And they have to pay out 90% of their taxable income every year.
BDCs invest in small businesses, either by owning equity stakes or by making loans. The government thinks that's an important job... So it entices investors to structure themselves as a BDC by letting them skip tax day – as long as the majority of their earnings are passed on to shareholders in the form of big dividend checks.
Lately, those checks have gotten even bigger. You see, like all companies related to finance, BDCs have taken a beating. In the last year, the sector has fallen 49%.
Business Development Companies Get Guillotined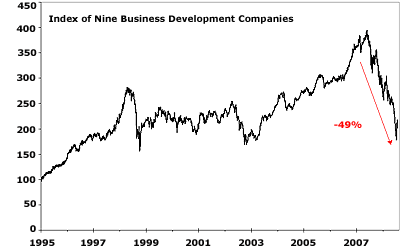 The stocks are down but the dividends haven't fallen... yet.
Many of these companies are like subprime lenders. They specialize in "mezzanine" lending to financially strapped businesses.
A mezzanine loan is junior to all other types of debt. In a bankruptcy, mezzanine debt holders are just about last to get paid. (Only common shareholders are farther back in line.) Since it is more risky, a mezzanine loan demands higher interest rates. So companies usually use this type of financing as a last resort.
If some of the small businesses that owe money to the BDCs fail to make their payments, the BDC dividends may fall. That's what's spooked the market into pricing these BDCs for Armageddon.
But several of the best BDCs have nothing to do with real estate, credit cards, or other consumer debts. They're simply doing business as usual. And I think they may be great bets over the long term.
The biggest BDC is American Capital (ACAS), which yields 20%. It's led the sector down... And it still hasn't built a solid bottom yet. When financials do recover, it should work out well.
Two other interesting ones to keep an eye on are NGP Capital (NGPC), which yields 9.9%, and Prospect Capital (PSEC), which yields 12%. Both lend to the booming oil patch, and both have increased their dividend payments in the past three months.
Since the oil market is falling right now, these BDCs may decline in the short term. But when they bottom out, they should make extraordinary investments.
Good investing,
Ian Davis