Q: I sold most of my energy stocks months ago to preserve my capital. With share prices so far down, are there any good places for my cash? – L.M.
A: What if I told you that you could own one quarter of the reserves of the world's biggest public oil companies. How much would you pay?
Would you buy them for nine times earnings? I would... and we can, right now.
ExxonMobil's worldwide oil reserves make up 25% of the total reserves of the 20 largest oil companies. That's essentially all the reserves in publicly held companies.
ExxonMobil owns about 20% of all the natural gas reserves held by public companies. The company also produces 29% of all the oil pumped by public companies.
Among the public oil companies, ExxonMobil is the only stock that really matters. And you can buy it for less than 10 times earnings and earn a 2% dividend on your investment...
In the recent Oil and Gas Journal's annual rankings issue, ExxonMobil was first in all but four of the 12 categories. The company dominates the industry, and these rankings show just how big the lead has become.
The world still needs oil and gas. We still own cars. We still fly in airplanes. We still buy goods shipped from China and Mexico (just maybe less than we did a few months ago).
The truth is, anything that moves runs on oil. It's not going away in the near future. ExxonMobil's stock price may fluctuate with the market, but it's going to be around for a long, long time. And thanks to the market turmoil, the world's greatest public oil company is exceptionally cheap.
Q: We all know there's been a recent pullback in gold and silver, but it looks as though platinum has corrected the most. Is platinum a better buying opportunity? – R.R.
A: Since 1994, an ounce of platinum has cost about 1.7 times more than an ounce of gold. Today, platinum is only 1.2 times the price of gold. As you can see from the chart below, platinum and gold haven't been this close in price in 10 years.
Platinum Is at a Tiny Premium to Gold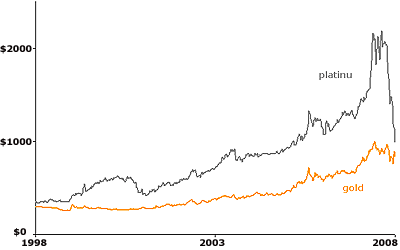 As the government turns on the presses to create the $700 billion in bailout money (along with the other couple hundred billion in "assistance"), you'll see gold and the other precious metals make a strong comeback.
There is no doubt in my mind that this is a fantastic opportunity to own precious metals. The paper dollar is about to lose an awful lot of value. And the price of platinum has plenty of room to rise.
You can buy platinum futures through the E-Tracs UBS Long Platinum Fund (NYSEARCA:
PTM
). But PTM is tiny, illiquid, and I believe vulnerable if the credit crisis worsens.
You could also buy platinum mining stocks. But that's taking on too much risk for the average investor. Mining stocks are extremely volatile and tend to fall with the markets. They don't always move in the same direction as bullion, so avoid them right now.
My favorite way to
own platinum is through bullion coins
, platinum eagles. But according to my dealers, they simply can't find any. The U.S. Mint decided to ration the supply of platinum coins, and bars are nearly impossible to get as well.
Supply is low. And demand is growing. Prices are about to rise.
Good investing,
Matt