It may not be the final bottom of this bear market. But it is a bottom that should lead to a rally over the next few months.
Here's how I know...
On Sunday night, the S&P 500 futures were down 15 points. Futures on the Dow Jones Industrial Average were off nearly 200 points. Oil was trading below $90 per barrel, and gold was down about six bucks.
Monday was going to be another day of relentless selling pressure on every asset class. So I stayed up all night and tried to get as much work done as possible. I needed to be available to deal with all the phone calls I expected to receive when the selling started on Monday morning.
Last week, I told you
stock-market bottoms
tend to correspond with increased activity on my phone lines. So when the market opened at 6:30 a.m. Pacific standard time, I was ready for it. I had my e-mail inbox displayed on my laptop computer. My cell phone was within arm's reach on the right-hand side of my desk. And I had both of my portable telephones on my left-hand side.
The market opened down 200 points and fell another 100 points by the end of the first hour. But my phones were silent.
By 9:30, the market was down over 450 points. I was huddled up in the corner of my living room. My knees were pressed against my chest, and I was turning the table lamp on and off ala Glenn Close in Fatal Attraction. "Why won't they call?" I asked myself.
Ten minutes later, the phone started to ring... And it didn't stop for the rest of the day.
The most interesting phone call happened at 10:02 a.m. It was from my wife. She wanted my permission to give my phone number to an old high-school friend who had tracked her down. The friend remembered my wife mentioned at a reunion eight years ago that I was involved with the stock market. The friend's husband was buried in bad investments. He was panicking and needed to talk to someone.
"That's a lot of work to go through just to talk to a stranger about stocks," I thought to myself. "This must be a sign of the bottom." The Dow was down 566 points at the time of the phone call.
The market went on to lose a few hundred more points before reversing to close down "just" 369. By the end of the day, I had received 14 phone calls and over 35 e-mails from friends and relatives asking my opinion on the stock market. That's right in line with what happened back in March and July of this year. And it creates a pretty good sentiment indicator for a stock-market bottom.
Of course, I'm not relying solely on the "friends and family indicator" as a market barometer. Nearly every technical indicator I follow is grossly oversold and at levels from which strong intermediate-term rallies typically begin.
Including this one...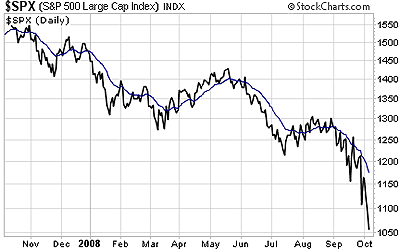 This is a chart of the S&P 500 plotted against the 20-day exponential moving average (EMA). You've seen
versions of this chart
before. The 20-day EMA acts as a magnet for the S&P. The index rarely strays more than 30 points from the line before the line's magnetic pull reels the index back in.
Right now, the S&P 500 is a whopping 114 points below the line. I've never seen a difference that large. And the pressure to bounce back toward the line is enormous.
At the very least, this chart suggests the risk of a further decline is minimal.
So I'm betting on a rally. It may not start today. But it will start soon.
Best regards and good trading,
Jeff Clark