For the past few months, the behavior of one asset has reassured me that – despite the worst news in decades – "things aren't so bad" in the real estate market...
The bearer of good news was the surprising strength in the iShares Real Estate Fund (IYR). This ETF is full of America's largest apartment landlords, mall operators, and office-building owners. It's also one of the world's largest and most liquid ways to own a basket of commercial real estate stocks.
From early 2007 to mid 2008, this liquid asset flowed straight down the toilet. This was around the time folks started realizing real estate prices couldn't rise 15% every single year into perpetuity. During the decline, IYR fell 40% from its highs to around $57 in July 2008.
While this sort of fall is commonplace in banking and commodity stocks these days, for a diversified basket of blue-chip real estate assets, it counts as obliteration. But after falling, real estate stocks held steady in July and August, despite the horrid news coming from Fannie Mae, Freddie Mac, and Lehman Brothers.
A trader could only look at this positive action in the face of negative news as a sign commercial real estate could be putting in a bottom... that the market was saying, "The worst may be over."
Last week, however, the market changed its mind. It's screaming, "The worst isn't over at all." As you can see from this chart, IYR just plunged past its July bottom to reach its lowest point in years: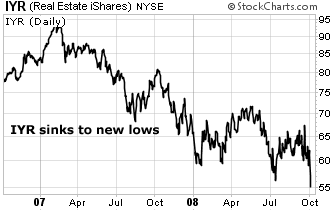 This new low has erased any hope an investor had for a bottom in commercial real estate. The market is saying credit- market weakness, a declining economy, and falling asset prices are crushing America's largest owners of commercial property... so it's no wonder commercial real estate insiders are selling stock in huge amounts.
What's an investor to do? Well, you can't know the future... but you can know the trend is still down for stocks, employment, and real estate prices. And you can know market trends tend to last longer than anyone thinks is possible.
My advice? Avoid real estate stocks for the time being.
An economic crisis always creates tremendous values in both stocks and land. And these securities are offering substantial yields in the 4%-6% range. But the trend in real estate stocks just got started on another leg down. The economic headwinds we're facing will make that trend last much longer.
Good investing,
Brian Hunt