Well, so much for the idea of a strong intermediate-term rally.
Several weeks ago, I suggested
stocks were ready to bounce
. The market had just completed a vicious three-month decline, and many technical indicators were pointing to a rally. If ever there was a stage set for a bear-market bounce, then it was set in November.
But I've seen flat basketballs bounce higher than this.
Yes, the major market averages did manage to rally 20% or so off of their November lows. But given the extent of the decline last summer and fall, a 20% gain is hardly a pop. And that's probably all we're going to get.
Sadly, after last week's action, it looks like the rally has come to an end. Take a look at one of my favorite intermediate-term indicators...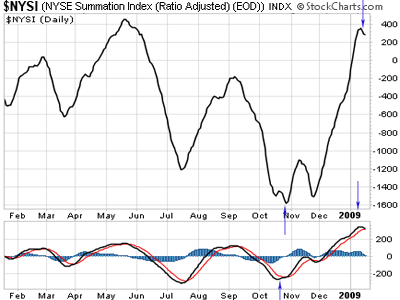 The New York Stock Exchange Summation Index (NYSI) is an indication of long-range market breadth. It's a momentum indicator. And when plotted against Moving Average Convergence Divergence (MACD) crossovers (on the bottom), it can generate highly accurate intermediate-term buy and sell signals.
Let me explain...
The black line on the MACD chart above is the 12-day, or "fast," exponential moving average (EMA). The red line is the 26-day, or "slow," EMA. Whenever the 12-day EMA crosses over or under the 26-day EMA, it creates buy and sell signals. And when those signals occur with an oversold or overbought condition on the NYSE Summation Index, they set up high-probability trading situations.
As you can see, in November, the NYSI was quite oversold and the fast EMA crossed over the slow EMA. Stocks popped 20% higher. It was an easy trade to make, and I suggested as much back in November.
On Friday, however, the fast EMA crossed back down below the slow EMA and generated a sell signal. Worse yet, this signal is occurring from a highly overbought area on the NYSI. So the stock market has the potential for a dramatic decline from here – one that takes out last November's lows.
For the short term – meaning the next week or two – the market could rally a bit just to eliminate the
oversold condition
I mentioned last Thursday. I suggest you take the opportunity to lighten up on your long positions.
We're unlikely to see the S&P 500 pop back above the 920 level and set another "higher high" on this rally from the November lows. Instead, it looks like in the intermediate term, the market has once again turned bearish.
Best regards and good trading,
Jeff Clark