In the midst of a general market meltdown, one sector looks ready to pop higher.
It's the refiners.
I first mentioned the
refining stocks
on July 29. Since then, Frontier (FTO) is up 8%, Valero (VLO) has gained 9%, Tesoro (TSO) is up more than 24%, and Alon USA (ALJ) is up more than 50%.
This is just the beginning.
Refining charts look better than any other sector right now. Just take a look at this chart of Tesoro...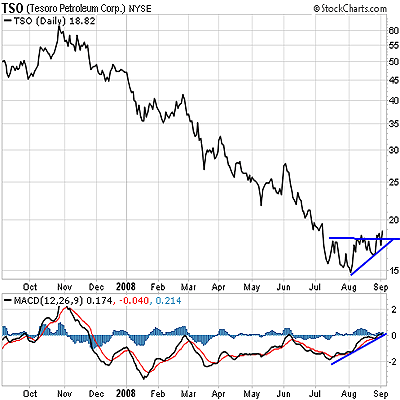 This is a perfect example of an ascending-triangle pattern. It's a series of higher lows followed by rallies that continuously bump up against the same resistance level. More often than not with this pattern, resistance gives way and the stock bolts higher.
I'm betting that will happen with the refining stocks. And I'm betting it will happen as soon as today.
You see, the weekly gasoline inventory results will be released today at 10:30 a.m. Eastern time. For the past three weeks, gasoline inventories have declined more than expected. And in each case, the refining stocks rallied.
I expect we'll see the same type of action today.
Admittedly, I've been bullish on refining stocks for the past few months. And we haven't seen much upside progress. But this sector is all but given up for dead, and no one is talking about its improving technicals and fundamentals.
There isn't any other sector that appears more poised for a rally. And I'll bet six months from now, you'll be slapping you're forehead and saying, "I can't believe I had the opportunity to buy those stocks at those prices."
The refining sector offers the best risk/reward setup of any sector I follow right now. You'll do well to consider an investment in one of the refiners.
Best regards and good trading,
Jeff Clark