Statistics was my favorite course in college. Finding meaning in a bunch of numbers seemed like torture to most of my friends. But it was fascinating to me. And it's a big reason for the success I've enjoyed as a trader.
My college statistics professor was a big fan of the term "reversion to the mean." This is the concept that, over time, numbers will drift toward their long-term historic averages.
For example, in 1994, Hall of Fame baseball player and eight-time national batting champion Tony Gwynn was batting over .400 (meaning he hit an average of four base hits in every 10 times at bat) with just a couple months left in the strike-shortened season. He was threatening to be the first major league ballplayer to bat over .400 since Ted Williams did it way back in 1941.
Frank, my friend and a huge fan of the San Diego Padres (Gwynn's team), wagered $100 Gwynn would end the season batting over .400. Gwynn's lifetime batting average at the time was something like .330, so understanding the concept of "reversion to the mean," I had to take the other side of that bet.
Sure enough, Gwynn ended the season three hits short of the .400 mark. And Frank had to cough up $100.
Reversion to the mean applies to the stock market, too. I've often shared with you charts of the S&P 500 plotted against its 20-day exponential moving average (EMA). Historically, the index rarely strays more than 30 points above or below its 20-day EMA before reversing and coming back to test the line. So when the index moves outside of that range, I'll often place a trade betting on a reversal to the mean.
That's exactly where we are this morning. Take a look...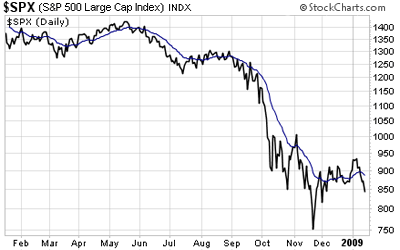 The S&P 500 closed yesterday at 843, roughly 50 points below its 20-day EMA (the blue line). So statistically, I'm looking for a bounce back toward the line.
Of course, trading on this one indicator doesn't always work out so profitably in the short term. Back in November, the S&P dropped over 100 points below its 20-day EMA. But even if you bought when it was 30 points below the 20-day EMA, while you had to endure some short-term difficulty, you were profitable by the end of the month.
Over time, betting on a reversion to the mean is one of the best ways I know of to profit off the stock market. In fact, it's the most profitable concept I learned in college.
Best regards and good trading,
Jeff Clark