Here's a simple fact of the market: You won't know when the bottom has hit until long after it has already past. By that time, you may have missed the best opportunities to buy.
But we can watch for clues...
That's why I keep an eye on a group of the market's smartest players: corporate insiders. Insiders can do more than just tell us the direction of individual stocks. They can help us predict the market's general direction.
Usually, market bottoms coincide with peaks in insider buying. Insiders step up the buying as the market falls. Then, as the market recovers, insiders back off because the bargains start to disappear. This creates a peak in insider buying just as the market carves out a bottom. Take a look at the peak in buying we got at the end of November:
Insider Buy Ratio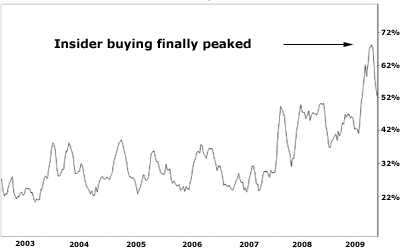 The market tried to carve out a bottom twice in 2008: first with a five-year low of 837 on the S&P 500 in October, and again in November, when it fell to 741. Insider buying continued through November, as the market grew cheaper.
Once December rolled around, and the market started climbing, the buying began to slow. The Insider Buy Ratio (IBR), which I use to measure how bullish or bearish insiders are, fell from a peak of 69% to 52%.
Historically, similar peaks in insider buying have cemented that bottom. The market is moving higher from here on out. You should now own less cash and more stocks than you've owned during any other time in the last five years.
Don't let this opportunity to
buy stocks
pass. Before you know it, the market will be 200 points higher, the bottom long gone, and you'll have wished you'd listened to the insiders.
Good investing,
Brian Heyliger