The biotech acquisition craze continues.
Yesterday, Bristol-Myers made a $4.5 billion bid ($60 per share) for biotech ImClone, a 30% premium to its closing price.
ImClone has a colorful history. Its cancer drug, Erbitux, is on track to generate $1.6 billion in worldwide sales this year. But you might remember the insider trades that landed former CEO Sam Waskal and his friend Martha Stewart in jail in 2001.
The turmoil didn't end there.
In 2006, billionaire activist investor Carl Icahn launched a battle for boardroom seats. After a protracted clash, Icahn ousted CEO Joseph Fisher and took over the chairman post. Since then, he has brought in new management to fix the company while searching for a buyer.
Well, Icahn should be happy. Bristol's bid made him $200 million richer overnight.
Bristol-Myers is ImClone's natural suitor. It already owns 17% of ImClone stock and shares the marketing rights for Erbitux in North America and Japan. I don't think any other Big Pharma will start a bidding war with Bristol. But ImClone shares are trading around $65. So Bristol will probably need to sweeten the deal to get Icahn's blessing. I think we will see the final offer closer to $70 per share.

This is the second mega biotech deal in two weeks. Last Monday, Roche
launched a bid
to acquire the 44% of Genentech shares it didn't already own. The price tag: $40 billion.
And the dealmaking isn't over. Big Pharmas need to
buy their way out
of declining revenues and barren pipelines. And the biotech sector is the only place for them to shop.
Now the market is starting to catch on. So despite recent broad market declines, biotech indexes are hitting 52-week highs. The Nasdaq Biotech Index and its corresponding ETF (IBB) is up 16% in the last month.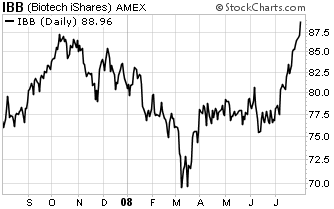 We are in the beginning stages of a multiyear biotech rally. Investors abandoned biotech stocks for 18 months, sending shares to levels last seen in 2002.
But these acquisitions are showing investors the profits biotech can offer. I believe once the excitement catches on, the biotech indexes could easily double in the next 18 months.
Good investing,
George Huang