We couldn't have scripted it better.
Last month, we
took a look at the dollar
, decided it was ready to fall, and bet stocks and commodities would rally. That's exactly what happened.
From top to bottom, the U.S. Dollar Index dropped 12%. The S&P 500 gained as much as 13%. Gold was up 17%. And oil rallied 15%.
Now, however, the dollar is showing some strength while stocks and commodities are acting tired. This action, of course, begs the question, "Is that all there is? Or can we squeeze a little more of a rally out of the stock market before the bear takes another swipe at it?"
Here's where it pays to know a little bit about dead cats...
You see, on Wall Street, "dead cat bounce" is an old phrase used to describe the action in a beaten-down stock. The thinking is, if you tossed a dead cat off the top of the Empire State Building, it would bounce when it hit the ground. Then it would drop back down and hit the ground again.
Applying this phrase to the stock market, the term "dead cat bounce" indicates the action of a stock that has fallen from lofty levels, hit bottom, and then bounced sharply. Eventually, the stock will fall back down and hit bottom again.
To me, the action in the U.S. dollar looks like a dead cat bounce...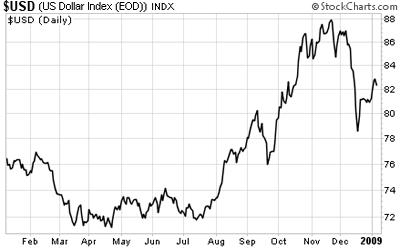 So the greenback ought to fall back down to last month's lows, or perhaps a bit farther. And that should be enough to reignite another rally in stocks and commodities for at least the next month or two.
Of course, you could argue that the action in just about every asset class resembles that of a dead cat bounce. You'd be right. Indeed, trying to trade this market is like trying to juggle a bunch of dead cats.
Actually, it's more like watching someone else juggle them. Then wagering on which one will drop first.
I'll bet the dollar hits the ground first – which means the other cats ought to stay airborne a while longer.
Best regards and good trading,
Jeff Clark