In the last seven weeks, we've covered three big reasons why now is a great time to be a buyer of stocks.
On November 10, we noted the record amount of
buying from corporate insiders
. Insiders were and still are buying at levels not seen in more than 30 years. This kind of extreme historically corresponds with sharp rallies in stocks...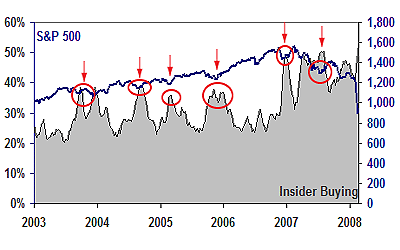 Later that month, we checked in with
supertrader Mark Cook
for his take on the market. Mark is one of the few traders interviewed for the classic
Market Wizards
series of books on trading. He's also won numerous trading contests. Most importantly, he's so good at trading, he doesn't work for anyone but himself.
Mark has created several useful indicators that measure how overbought or oversold the stock market is. Back in November, his indicators led him to say stocks were so oversold, we were near the "buying opportunity of a lifetime."
Then, on December 22, we saw
a screaming buy signal
from the investment-advisory business... There's a dirty secret newsletter publishers didn't want you to know: Most of them are wrong about the direction of the market. So I keep an eye on the Investors Intelligence Bull Ratio – a ratio of bulls to bears in the newsletter advisory business.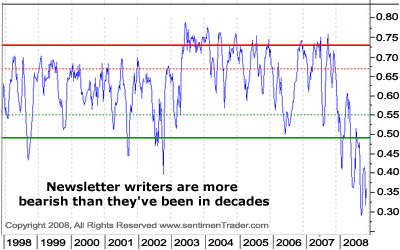 It recently hit its lowest levels since 1989, meaning the advisory crowd is super bearish on stocks. That's a great sign a rally was around the corner.
Last week, the market "confirmed" the bullish fundamentals by climbing above 920 for the first time since early November. It's an important development in the market's new tendency to reach higher highs and higher lows. (It's also up 8% from the "buy point" I highlighted on November 24.)
If you haven't put any money to work in the market, don't worry. There's still time to be buying. We've had a good run in the past few weeks, so we'll likely see a small pullback here. But treat that pullback as a buying opportunity. After such a severe decline like we saw in 2008, the coming rally will be a doozy.
Good investing,
Brian