The best short-selling opportunity of the year is coming just around the corner. But first... we rally.
Look at this remarkable chart...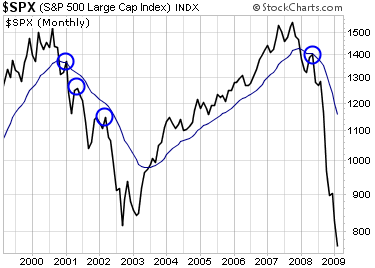 This is a monthly chart of the S&P 500 plotted against its 20-month exponential moving average (EMA). The index broke below the line back in December 2007, kicking off the bear market. It has been a straight shot lower ever since.
The problem with this bear market – other than obliterating the account balances of long-term buy-and-hold investors – is it hasn't given short sellers any low-risk entry points. The ideal risk/reward setup for a bear market is when stocks bounce back up to within striking distance of the 20-month EMA. Short sellers can then take a position without risking the threat of a sharp intermediate-term rally wiping out their trades.
Selling the rallies in a bear market is similar to buying the dips in a bull market. The bull market from 2003 through 2007 gave investors multiple chances to buy as stocks came back down toward the 20-month EMA. The bear market from 2001 through 2003 gave short sellers three shots at going short (circled on the chart). The only low-risk shot traders have had to position short in this bear market was back in April of last year.
So there are a lot of frustrated wannabe short sellers growing tired of waiting for an entry point. And judging by the sudden popularity of bearish analysts on CNBC, the dramatic increase in short recommendations from newsletter writers, and the overwhelmingly bearish investor surveys... they're not waiting anymore. They're piling on the short positions just as the S&P 500 drops to its lowest level in 11 years.
And they're about to get wiped out.
The S&P 500 is now more than 50% below its 20-month EMA. That's the largest percentage difference in history. In other words, the rubber band is now stretched further to the downside than ever before.
If there were ever an ideal time for a sudden snap-back rally, that time is now.
Please understand: I'm not bullish. In fact, I expect stocks will head much lower before this bear market runs its course. But there is a good time and a bad time to sell stocks short.
Now is a bad time.
The best time to short stocks is when they bounce back closer to the 20-month EMA. A difference of about 10% or so seems about right. Of course, that means we're going to have to see one heck of a rally to set that up.
Don't get caught on the wrong side of it.
Best regards and good trading,
Jeff Clark