Q: What do you think about buying fertilizer companies right now? I've read that they're cheap. – A.H.
A: The share prices of the big fertilizer companies are down an average 70% from their recent highs. Combine that with the last 12 months of earnings and they do look pretty cheap.
But we're coming off the mother of all commodity bubbles. Take a look:
We're Coming Off a Bubble in Fertilizer Prices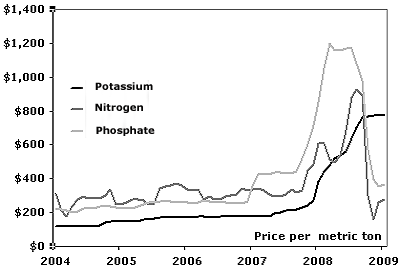 The prices of potassium, nitrogen, and phosphate – the three primary ingredients in fertilizer – tripled on average from 2007 to 2008.
But those numbers have come back down. And Potash Corp – one of the largest fertilizer companies – has seen demand decline over the last year. Company executives expect that trend to continue due to the current economic crisis. Mosaic – another industry biggie – will reduce production for the rest of 2009.
So we can't use recent earnings to see if these companies are cheap. Instead, we'll calculate a price-to-earnings ratio based on the average earnings over the last 10 years. As you can see, they aren't cheap.
Company

Market Value (Billions)

Price to Earnings*

Potash Corp

$23.8

45x

Mosaic

$18.0

37x

Agrium

$6.3

27x

* Based on long-term averages
We still have some room to fall in the ag space. We're coming off a massive spike in fertilizer prices and heading into a major economic decline. That could conspire to send earnings lower and carry the share prices with it.
Q: If you believe oil is inevitably headed higher, is there any downside to owning DXO? – R.L.
A: The PowerShares Crude Oil Double Long fund (DXO) moves twice as much as the price of crude oil. If oil climbs 10%, DXO goes up about 20%. If oil falls 10%, DXO falls about 20%. So investors who are bullish on oil can use DXO to amplify their gains.
But there is no guarantee oil will stage a speedy recovery. If oil takes years to climb, then your DXO investment will just sit there, earning you zilch.
I've found a much better way to play a rise in the oil price: U.S. royalty trusts.
Don't confuse these with
Canadian royalty trusts
, which are actual oil companies that enjoy a special tax status. American royalty trusts, on the other hand, just collect royalties on the net earnings from selling oil and gas production. There's no operating cost, no debt... nothing but cash flow.
American royalty trusts aren't going to give you leverage to oil's price like DXO would. But their share prices track the oil price pretty closely... and you get fairly large quarterly paychecks no matter what.
Here are a few of the largest...
| | | |
| --- | --- | --- |
| Company | Market Value | Yield |
| BP Prudhoe Bay Trust | $1.1 billion | 8.7% |
| San Juan Basin | $684 million | 7.8% |
| Sabine Royalty Trust | $459 million | 9.7% |
| Dorchester Minerals | $412 million | 14.4% |
| Hugoton Royalty Trust | $374 million | 6.5% |
| Permian Basin | $354 million | 6.4% |
| Cross Timbers Royalty Trust | $113 million | 6.2% |
If you'd bought the BP Prudhoe Bay Trust, the largest American royalty trust, the last time oil prices were this low, you'd have doubled your money in five years on the dividends alone.
I've been telling you to concentrate on commodity companies with low debt, cheap production, plenty of cash, and generous dividends.
American royalty trusts aren't your average natural resource stocks. But with zero debt, zero production costs, and nothing but cash flow for dividends, I think these are the best place to park cash for a bet on rising oil prices.
Good investing,
Matt