The chart below is one of the most devastating things to ever happen to commodity investors: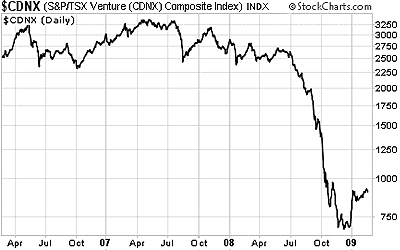 This is the past three years in the Toronto Venture Exchange. Over 1,000 mining companies are listed on the "Venture." Mining companies make up 65% of the index. Energy companies make up another 15%.
You can think of the Venture as the Dow Industrials of small resource companies. It's an excellent gauge of what's happening in the business of exploring for resources like copper, oil, diamonds, and precious metals.
As you can see, the past few years have been brutal for this sector. The Venture lost 80% of its value in about 20 months. It's the worst crash the index has ever suffered.
So why the historic crash? Well... many of the stocks in the index don't have any assets to speak of. Most are just a management team, a balance sheet that bleeds cash, and a desk full of unsuccessful drill results. They're simply lottery tickets the public can buy and sell to each other.
Pick a Venture Exchange winner and you won't have to work for five years. Pick a loser and you're wiped out. And as I'm sure you remember, 2008 was much more "wipeout" than "win."
Now here's where it gets exciting: After such a gigantic decline in the Venture, people can't stand the thought of owning small mining stocks. When the public can't stand the thought of owning an asset, it's creates huge values for contrarians.
I think that "value" point is here for many of the stocks on the Venture. I think the bull market in gold and silver will continue. And I think a handful of these small resource companies will return hundreds of percent over the next few years.
Before you go out and buy a Venture stock, remember most of these stocks have unproven management and little in the way of assets to provide a "floor" for the stock price. They're losing lottery tickets.
But for my favorite stocks on the Venture, now is an excellent time to buy. You have some great companies with more cash on their balance sheet than market value, sitting on incredibly valuable real estate. I think a few big drill results could ignite another bull market in the best companies.
The single most important aspect of evaluating these little mining companies is management experience. You want to own the companies run by folks who've found big discoveries in the past. You don't want to finance someone else's learning curve – it gets expensive.
To make it easier for you in 2009, use this list of companies as a springboard for your research. I've been researching this sector for years now, and these guys are some of the best:
| | | | |
| --- | --- | --- | --- |
| Company | Market Value | Cash | Management of Note |
| Fortuna Silver | $71 million | $39 million | Simon Ridgeway |
| Mag Industries | $45 million | $119 million | Bill Burton |
| Atacama | $27 million | $48 million | Lukas Lundin |
| Linear Gold | $22 million | $19 million | Wade Dawe |
| Miranda Gold | $14 million | $8.8 million | Ken Cunningham |
| Intl Enesco | $5 million | $12 million | G. Arnold Armstrong |
Remember... there's a lot of junk on the Venture. And not all the stocks on this list are going to be winners. But the 2008 washout gives you a chance to buy some of the best gold and silver hounds in the world for the cash on their books.
Keep this list handy, watch for discovery news, and get ready for hundreds of percent gains in the next few years.
Good investing,
Matt Badiali