Stocks are on the verge of breaking down to new lows... and no one cares. That's a bad sign for anyone still leaning bullish.
The action in the stock market simply didn't justify a bullish stance, and I suggested selling into any short-term strength. We got that strength a few days later.
Today, the S&P 500 is sitting right about where it was last month, and the conditions are even more bearish. Consider, for example, the put/call ratio.
The put/call ratio is an indication of investor sentiment. The higher the ratio, the more frightened investors are and the closer the market is to a bottom. A low put/call ratio is a sign of investor complacency and often warns of an impending decline.
Of course, the ratio is volatile and it can vary quite a bit from one day to the next. So it's best to use some form of moving average to get a more accurate gauge of sentiment. Take a look at this chart...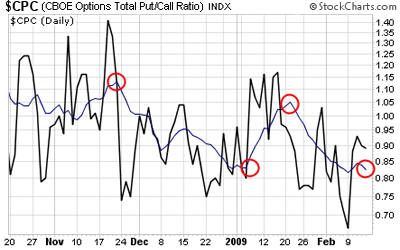 The blue line on the chart is the 10-day moving average of the put/call ratio. The circles indicate turning points in the ratio, which also correspond to turning points in the stock market.
Look at how those circles line up with this chart of the S&P 500...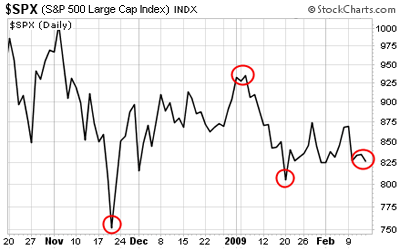 The market's November low occurred with a peak in the put/call ratio. The January high in stock prices accompanied a bottom in the put/call ratio. Notice, also, how the ratio peaked one month ago, right before the market put on the rally I told you to sell into.
The curious development now, though, is the S&P 500 is right back down to where it was one month ago, but the put/call ratio is much lower. In other words, while stocks are on the verge of breaking below an important support level, investors are less fearful.
That's bearish. And it's a strong warning sign stocks are headed lower.
Best regards and good trading,
Jeff Clark