Q: For someone who is just starting out and wants to invest in oil, what is the most profitable and safest way to go? – L.P.
A: Today, some of the best companies in the oil industry are trading at exceptionally low prices. For a new investor, I suggest sticking to one of the major integrated oil companies.
Integrated oil companies are the safest way to invest in the broad oil market because they own businesses across the entire spectrum of the industry (wells, pipes, refineries, and even gas stations). They benefit with each step oil takes from the ground to your gas tank.
All of them pay dividends – most above their five-year average yields – which means your money grows, even without capital gains.
| | | | |
| --- | --- | --- | --- |
| Company | Market Value | Dividend Yield | 5-Year Average |
| ExxonMobil | $395 billion | 2.0% | 2.0% |
| Chevron | $151 billion | 3.5% | 3.0% |
| British Petroleum | $144 billion | 7.4% | 3.6% |
| Royal Dutch Shell | $164 billion | 5.4% | 4.2% |
| ConocoPhillips | $72 billion | 3.9% | 2.3% |
It's hard to go wrong owning ExxonMobil. While most oil companies' earnings were crushed in 2008 when the oil price plummeted, Exxon posted an 8% gain over 2007. The company grew its earnings per share by twice that rate simply by buying back its own stock. Exxon's dividend is in line with its average, but it's selling for only six times 2008 cash flow – cheap!
Every investor should hold one or two major integrated oil companies. This is the place for you to start building your energy portfolio.
Q: Natural gas has cratered. Isn't this running counter to its typical seasonality? Shouldn't natural gas be rallying now and declining in June and July? – A.J.
A: Since 2000,
natural gas prices
fluctuated on average about 25% during the year, typically peaking between December and February and bottoming between August and October.
But, the global economic crisis means all bets are off for energy consumption. Natural gas demand usually spikes in the winter, along with prices. This year, it's flat. Take a look...
Natural Gas Demand Didn't Spike This Year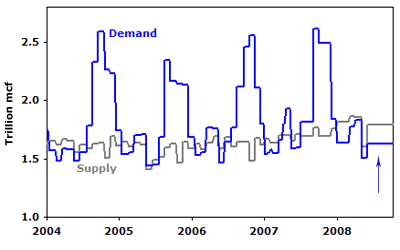 When industrial production collapses, so does the demand for natural gas. When demand collapses, so does price.
I'm not sure if we'll end up seeing a spike later this year or not at all. But I'm leaning toward the latter...
In March 2008, we hit a 30-year high in natural gas production, and our natural gas reserves are the highest they've ever been.
In the past, we could count on demand from Canada's tar sands to use up all the extra natural gas in North America. But now, with oil so cheap, it's not worth it to produce oil from the tar sands. So that demand dried up.
In other words, I think natural gas prices could stay low for a long time. Now's not the time to speculate on a bottom in natural gas.
Good investing,
Matt