Buying into the stock market after a 1,000-point rally is like trying to wrestle a skunk. There's lots of risk and not much reward. The decline over the past few days has taken a lot of the stink out of that idea, however, and short-term traders can start nibbling on stocks right here.
There's still risk. My
downside target
for the S&P 500 is 725. But stocks are now in an intermediate-term uptrend, which should last several more weeks at least. A few small stock purchases now ought to pay off well over the next month or two – even if there's a bit more short-term weakness. And you'll want to make several big bets if the Volatility Index (aka the "VIX") breaks down below 39.
Let me explain...
The VIX is best used as a fear barometer. A rising VIX shows increasing fear among investors and is commonly associated with declining stock prices. A falling VIX, on the other hand, indicates investors are less fearful and more willing to take risks. It often leads to rising stock prices.
By the look of this chart, the VIX is ready to break down...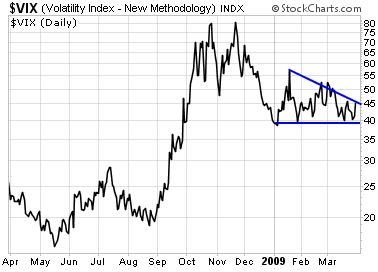 This is a descending-triangle pattern. It is created when a stock bounces multiple times off the same support line and each bounce is lower than the previous one. This is a bearish pattern. Most of the time, the constant pounding on the support line causes the chart to break down, creating a sudden and severe decline.
A sharp move lower in the VIX will likely be accompanied by a sharp move higher in the stock market.
The Volatility Index has support right now at just over 39. Once that level breaks, it'll kick off the next big up-leg for this intermediate-term rally. My guess is it'll happen sometime within the next week.
You'll want to have a few small long positions before the VIX breaks down. And you'll want to increase exposure as soon as it happens.
The next leg could carry the Dow up another 1,000 points from here.
Best regards and good trading,
Jeff Clark